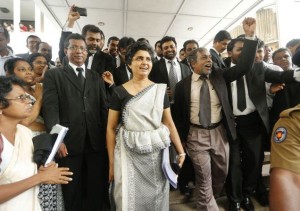 AP

Sri Lankan opposition claims the impeachment of Chief Justice Shirani Bandaranayake was carried out with prejudice.
Sri Lanka's Appeals Court on Monday quashed the findings of a parliamentary panel which found the country's first woman chief justice guilty of misuse of power, hours after the President appointed a committee to review the highly-criticised impeachment procedure.
"The Court of Appeal has quashed the findings and issued a writ against the Parliament Select Committee," a lawyer for Justice Shirani Bandaranayake told reporters.
The Appeals Court ruling in favour of the lady chief justice came after today's announcement that parliament would debate on the PSC report on January 10 and 11.
The parliamentary committee had found 54-year-old Bandaranayake guilty on four counts out of the 14 point charges, triggering a tussle between the legislature and the judiciary.
She was accused of financial impropriety based on non declaration of assets and conflict of interest in a case involving a failed investment company.
But the Supreme Court declared last week that the committee did not have authority to probe the chief justice.
Rajapaksa appoints panel
Earlier, President Mahinda Rajapaksa appointed a four-member independent panel to review a parliamentary committee's impeachment of Bandaranayake, apparently in the wake of widespread criticism.
Critics say the chief justice did not get a fair trial and the case against her is an attempt by the Rajapaksa government to stifle the judiciary's independence.
Presidential spokesman Mohan Samaranayake said an independent panel would start work today to review the report of the, but did not name the members.
However, the Parliament is set to go through with her sacking claiming that no court could impinge on parliamentary powers and privileges.
The lady judge has pleaded not guilty to all accusations against her and staged a walk out from the PSC hearing calling it as lacking transparency and fairness.
The government angered by rulings unfavourable towards it has moved for the removal of Bandaranayake.
Her husband is also under investigation by the anti-graft commission for a dubious share transaction involving the state savings bank which he headed.