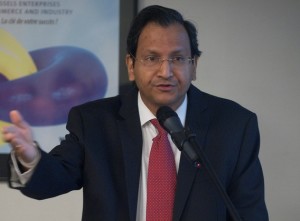 Ambassador Ariyasinghe
Addressing the 63rd Session of the Executive Committee of the UNHCR on Tuesday (2nd October 2012) Sri Lanka's Permanent Representative to the UN in Geneva Ambassador Ravinatha Aryasinha has said,
"Those who downplay the significance of Sri Lanka's post-conflict achievements and constantly keep shifting goal posts, show disrespect not only to Sri Lanka and its international partners whose steadfast commitment to this task has made these achievements possible".

British Tamils Forum (BTF) Human Rights Team Leader in Geneva, Kana Nirmalan said; what the ambassador failed to tell the assembly is that the suffering of the Tamils in the Island, and it continues even today which was caused by the very government he represents.
The Tamil people are choosing to leave the island in unseaworthy fishing boats across high seas rather than face certain death in the hands of the Sri Lankan "White Van" death squads This is just one indicator of Sri Lankan State's self proclaimed achievements
Ambassador Aryasinha stated that "in contrast to the considerable difficulty and gloom in the humanitarian crises that continue to engulf many parts of the world today, Sri Lanka's recent achievement provides confidence and hope". In his address he detailed the so called progress made over the last three years as IDP resettlement, de-mining, re-integration of ex-LTTE combatants, the shrinking of the high security zones, increase of economic growth in the Northern Province and operationalisation of LLRC recommendations. Again Mr Aryasinha's version is far from the reality of life for Tamils in the island.
The so called IDP resettlement is non-existent as the people who have been forcibly evicted from the IDP camps have been prevented from resettling in their original homes, which are currently occupied by the 170,000 strong Sri Lankan occupying military. There is no assistance given to the people who are forcibly taken in buses and then dumped in isolated jungles. These people are then made to fend for themselves without any assistance. The reality is so embarrassing that the UN had to withdraw its congratulatory note on resettlement, soon after its release.
On the question of political prisoners, thousands are still languishing in illegal detention centres. The Sri Lankan government still has not released a list of those it detained at the end of the war, thousands of whom are feared extra-judicially executed in custody. The high security zones have been expanded and new military settlements have been created. Original inhabitants of these lands have been protesting against these illegal land acquisitions. The so called economic growth in the north is calculated based on the salaries paid to the 170,000 occupying military force, the construction of Buddhist temples in a non-Buddhist region. To reduce the visibility of the occupying military, the Army has been given civilian clothes. Even their very own LLRC promises remain on paper.
Mr Nirmalan stated that the Sri Lankan ambassador is "intentionally misleading the United Nations and seems to think that the world is not watching what is really happening on the ground." Sri Lanka has in the past bluffed its way through the international human rights mechanisms, and would continue to do so with its sham commissions while actually continuing its persecution of the Tamil people in a climate of absolute impunity.
-LNW