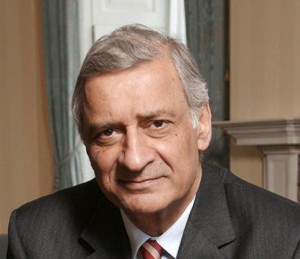 Commonwealth Secretary-General Kamalesh Sharma… "We are also putting in place a scheme that will help Sri Lanka progress towards national reconciliation."
"We are also putting in place a scheme
that will help Sri Lanka progress
towards national reconciliation."
Parvathi Menon
The Commonwealth Secretariat will assist Sri Lanka in setting up a National Inquiry on Torture, its Secretary-General Mr. Kamalesh Sharma said in an interview to The Hindu at the Secretariat headquarters at Marlborough House on the eve of his departure to Colombo to attend the Commonwealth Heads of Government Meeting.
To be set up under the aegis of the Sri Lanka National Human Rights Commission and to be assisted and monitored by the Commonwealth Secretariat, the inquiry will investigate all allegations of torture committed by government agencies or arms of the state from 2009 (the final stages of the civil war) to the present, he said.
The Secretariat has come under harsh criticism from international human rights groups, the media, and some member-countries who accuse it of sweeping human rights concerns under the carpet in respect of Sri Lanka, which is to become chair of the Commonwealth for the next two years.
Mr. Sharma said the Commonwealth Secretariat had in fact initiated the process that would bring the issue of torture and national reconciliation under Commonwealth scrutiny and compliance. "We are also putting in place a scheme… that will assist Sri Lanka progress towards national reconciliation," Mr. Sharma said.
The inquiry would take 18 months to complete its work, Mr. Sharma said.
Asked why it would take so long, he said complex processes took time. "Progress does not happen in a vacuum; it can only be secured if national institutions such as the Sri Lanka Human Rights Commission (SLHRC) are strengthened and given muscle and spine to do their work, with an advisory group from the Commonwealth."
Advocate Karen McKenzie, Acting Head, Human Rights in the Commonwealth Secretariat, told The Hindu: "The SLHRC must be part of the national protection system for human rights in Sri Lanka if this is not to be window-dressing but sustainable institutional reform."
The Commonwealth Secretariat's role in the torture inquiry, Ms. McKenzie said, would be to build institutional capacity through its own set of best practices on the conduct of national inquiries in compliance with international human rights standards, drawing from the experiences of South Africa, Namibia and Northern Ireland. "We will support Sri Lanka every step of the way to ensure that best practices are complied with, and will be on the ground during critical phases of the inquiry — the information gathering phase, for example. Finally, we will have a Commonwealth Advisory Group to ensure compliance."