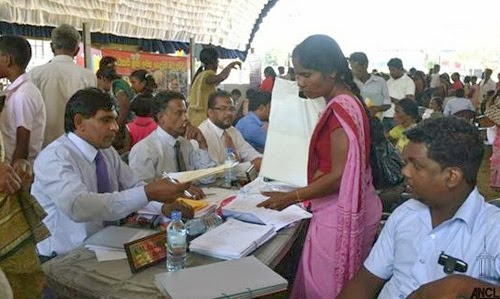 Commission sittings in Kilinochchi

KilinochchiKilinochchi
The Tamil National Alliance (TNA) has passed a resolution denouncing the Presidential Commission to Probe Disappearances, while confirming its support to the US-sponsored resolution to be brought at the UN Human Rights Council (UNHRC) sessions in Geneva.A special gathering of the top brass of the TNA, including its Parliamentarians and Provincial Councillors representing the North and East, took place at the Jaffna Public Library auditorium on Thursday (27).
TNA Leader, R. Sampanthan, announcing the resolution denouncing the Presidential Commission said it was not going to address the grievances of the people who have been searching for their loved ones and even had appeared before several official bodies to give evidences on their kith and kin who have disappeared.
The TNA resolution also indicated that the Alliance has no confidence on the latest Presidential Commission on the Disappeared Persons as one of the commission members, Chaminda Atukorale, had earlier appeared in the cases with regard to disappearances, on behalf of the State.
The TNA resolution denouncing the Presidential Commission was read out by the Northern Provincial Council Chief Minister, C.V. Wigneswaran.
The TNA also said it would get directly involved to ensure the victory of the US-backed resolution at the UNHRC sessions in Geneva next week.
By Ananth Palakidnar
Ceylon Today