Image courtesy LNW.
(Nathara Abeywickrema/Sunday Times)  Angry people are hitting out at the government in the aftermath of the 18 percent hike in electricity tariffs imposed by the Ceylon Electricity Board (CEB) with approval from the Public Utilities Commission of Sri Lanka (PUCSL).
This being the third electricity tariff hike for this year alone, people have been forced to make adjustments in their life styles in the face of the economic crisis that has hit the country.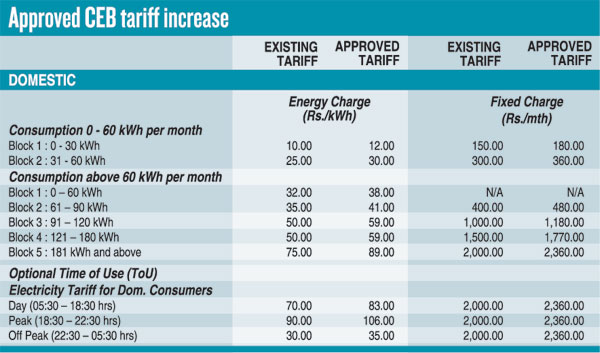 ElectricityBill
In Moratuwa, consumer M. Jayantha lamented that his bill would skyrocket. "The present Rs. 6,000 -7,000 bill after the previous tariff hike would go up to nearly Rs. 11,000," he said. He called on the Government to act urgently and effectively to resolve the crisis instead of placing more burden mainly on low-income households.
In Minuwangoda, Sanjeewa Fernando, who comes from a family of five, said expenses were going higher and they were finding it difficult to exist. He said his household was getting an electricity bill amounting to Rs. 11,000 a month, he feared it would go up by Rs. 2,500., making it difficutl, if not impossible, for them to survive.
The tariff hike will also hit businesses and industries. With increased operational expenses and shrinking profit margins, businesses fear they will lose their competitive edge in the market.
Voicing concerns, Auto Miraj Group of Companies Operations chief Suren Rodrigo said the electricity tariff increase could lead to lower sales and thereby a decrease in profit.
He said that, for instance, to meet the rising cost of living, personal vehicle users might be forced to switch to public transport, and
this would be a wake-up call for the Government to improve
public transport.
In the hotel industry, stakeholders said they would face severe difficulties as they were unable to increase room rates.
Tourism Veteran and Hotels Association of Sri Lanka President M. Shantikumar said the tariff hike would mainly affect the operational costs of hotels.
He warned of a breakdown of the hotel industry in the long run as small and medium hotels would find it difficult to meet their loan commitments.
The All Ceylon Bakery Owners' Association and the Canteen Owners' Association have, however, assured the public that they will not increase their prices even in the face of rising operational costs.
Kompannaveediya's Victoria Bakery manager A. Nadarajan said they were already facing many challenges due to high energy costs as they operated power-guzzling machinery and equipment. However, he too said they would not be increasing their prices.
The approved tariff revision of an 18% increase is expected to bring in about Rs. 70 billion in additional revenue to the CEB up to June next year, the Sunday Times learns.
A CEB official said the problems arose mainly due to the dry weather period from April to July, where predictions were made for the following financial year taking into consideration factors such as weather, inflation and dollar fluctuations.
The prolonged drought increased the electricity demand as hydropower generation sharply decreased while there was a drastic increase of the generation of thermal power.
He said the CEB would incur around Rs. 30 billion in losses by the end of this year despite the tariffs revision this week and questions remained why the CEB continued to bear losses.
With depleted Forex reserves, increasing prices and accelerated devaluation of the Sri Lanka rupee, the country was unable to import fuel and coal, which accounted for two third of the country's electricity. The crisis was aggravated with the CEB being short of funds to procure fuel while it was forced to obtain loans from multiple banks and was now had accumulated a debt of Rs. 65 billion.
He warned that the CEB was such a tight spot that it might soon become unable to pay its employees.
Hence, the 18% overall hike was put into effect after a series of internal investigations and stakeholder consultations, at a time when the state-run Ceylon Electricity Board (CEB) is operating at massive losses and the country is swirling into an economic downturn.
Responding to the situation, PUCSL Chairman Prof. Manjula Fernando said one of the proposals put forward by the CEB was to increase the charges by 22% for all consumers as a fuel surcharge. Another proposal was to increase the price of an electricity unit by Rs. 8.
Hence, the final tariffs and associated changes were made after a public consultation and stakeholder submissions, he said, adding that the determined average tariff was a combination of the unit price and monthly service charge.