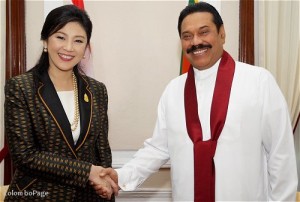 SL promised to support Thailand at UNHRC
Leaders of Sri Lanka and Thailand today agreed to enhance cooperation on defense and maritime security when the visiting Prime Minister of Thailand Yingluck Shinawatra met Sri Lankan President Mahinda Rajapaksa at the Presidential Secretariat.
The two leaders held bilateral discussions this morning on a number of issues including cooperation in defense, trade, investment and tourism.

The Thai PM is on a two-day visit to Sri Lanka with a business delegation to enhance bilateral relations with Sri Lanka and to explore investment opportunities in the island.
During the meeting with the Thai PM, President Rajapaksa underscored that sharing experiences and expertise will contribute to eradicating terrorism and other security threats in the region while pointing out that despite the end of the war in 2009, supporters of Sri Lanka's terrorist group Liberation Tigers of Tamil Eelam (LTTE) are continuing their fight to divide Sri Lanka from foreign shores.
"We must cooperate more closely in security-related information and intelligence sharing," President Rajapaksa said.
The two leaders also spoke about trade relations, acknowledging that there was room for improvement. President Rajapaksa invited the Thai government to invest in Sri Lankan government debentures and expressed the willingness to work more closely with Thailand in promoting more business opportunities in the small and medium industrial sector.
Following the bilateral discussions, the two countries signed agreements on visa exemption for official and diplomatic passports, cooperation on tourism, sciences and technologies, and commerce and banking.
Also an agreement was signed to promote the sister city status of Thailand's Ayutthaya Province and Kandy city.
During discussions, Prime Minister Yingluck commended the Sri Lankan government's efforts in fighting terrorism under the leadership of President Rajapaksa and extended her country's support to Sri Lanka.
"Thailand extends our support to make Sri Lanka a peaceful and prosperous nation," the visiting Prime Minister told the President.

The President also expressed gratitude to Thailand for its "firm support" to Sri Lanka at the 19th and 22nd U.N. Human Rights Council meetings, adding that Sri Lanka "should be entitled to have time and space to proceed with a delicate process of national reconciliation."
President Rajapaksa told the Thai Premier that Sri Lanka is now emerging as a competitive and vibrant destination for trade and investment and it is the right time to consider joint investments between the investors of the two countries and invite the Thai government to invest in Sri Lankan government debentures, further said.

President Rajapaksa promised Sri Lanka's assistance for Thailand's candidacy to the Human Rights Council in the period, 2015 – 2017.
During her visit, the PM is scheduled to visit Malwatta and Asgiriya temples and the Dalada Maligawa (Temple of the Tooth) and to open an exhibition celebrating the 260th anniversary of the establishment of the Siam Maha Nikaya in Sri Lanka.
The Thai delegation comprised several high-level government officials including Surapong Tovichakchaikul who serves as both the Deputy Prime Minister and Foreign Minister.
Prime Minister D.M. Jayaratne, Ministers G.L. Peiris, Douglas Devananda, Basil Rajapaksa, Rajitha Senaratne, Nirupama Rajapaksa, Patali Champika Ranawaka, Rishad Bathiyutheen and Priyankara Jayaratne, Monitoring MP Sajin de Vaas Gunawardena, Secretary to the President Lalith Weeratunga, Ministry Secretaries Karunatilaka Amunugama , P. B. Jayasundara and Anura Siriwardena, Chief-of-Staff Gamini Senarath, Central Bank Governor Ajith Nivard Cabraal and Sri Lanka's Ambassador in Thailand General S.H.S. Kottegoda, also participated in the discussions.
(Photos by Sudath Silva)
CP