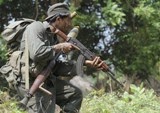 SL Army ( File Photo)
A village in Dharmapuram, Kilinochchi was tense this evening after the police reportedly raided a house claiming there was an LTTE suspect inside. Police spokesman SSP Ajith Rohana said that one policeman was injured after being attacked when they attempted to arrest the suspect. Tamil politician Gajendrakumar Ponnambalam said that the police and the army had raided the house of an activist identified as B. Jeyakumari, who had taken part in demonstrations organized by families of those reported missing.
She was in her house with her daughter who was often seen in photographs and television footage crying at demonstrations in support of the disappeared and had also spoken to Channel 4 television when the British television team visited Jaffna with UK Prime Minister David Cameron last year.
Ponnambalam said that the police had gone into the house of the young girl and her mother while the army surrounded the area and prevented access to anyone from outside.
He said that he had contacted Jeyakumari's mobile phone and when she was attempting to explain what was taking place a man who identified himself as a policeman had grabbed the phone and spoke saying there was an investigation underway so no one can speak to the girl.
Police spokesman SSP Ajith Rohana however denied any involvement of the army in the operation and insisted that it was purely a police operation to arrest a suspect.
However people in the area claimed that the police and army had surrounded their houses even late into the night. (
Colombo Gazette
)