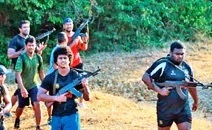 More photos below
Sri Lanka (SL) is perhaps the only country in the whole world where shooting at a target training is given to players of another sport apart from marksmen. The pictures herein show some of the players of SL rugby team being given special training in use of firearms at eastern Trincomalee alongside rugby training recently at a naval camp. The most intriguing and reprehensible aspect of this training is : when the international Asian cup rugby tournament in which 5 countries are participating is to commence next week , this arms training also being given.
A firearm is used surely not to save another's life through treatment rather to take another's life. Hence an arms training to a player is to create a murderous frame of mind among players to kill which is fundamentally detrimental and militates against the creation of camaraderie among players.
SL is the only country in the whole wide world that is under the oppressive rule of the murderous Mademaluna Mahinda Rajapaksa which provides for the use of weapons by players in the game of rugby . The pictures herein depict how the sons of Medamulana Rajapakse – Yoshitha Rajapakse and Rohitha Rajapakse alias Rocket Rohitha are being also made demonic (if they are not already) by arming them with T 56 weapons putting in peril others' lives in the rugby game.