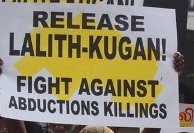 By Charles Haviland BBC News, Colombo
Hundreds of Sri Lankans have held a demonstration in Colombo, demanding to know the whereabouts of two activists who disappeared two years ago.
Lalith Weeraraj and Kugan Muruganathan organised rallies against political disappearances before being apparently abducted in the north of the country.
The rally was held on the second anniversary of their disappearance.

The crowd blamed the government and security forces, but they have always denied involvement.
Another demonstration on human rights, in the east of the country, was attacked by government supporters leaving one of its organisers injured: he was admitted to hospital.
Sri Lanka has one of the world's highest tallies of disappeared people – the United Nations says there are more than 5,000 cases, and that number refers only to those that have been registered.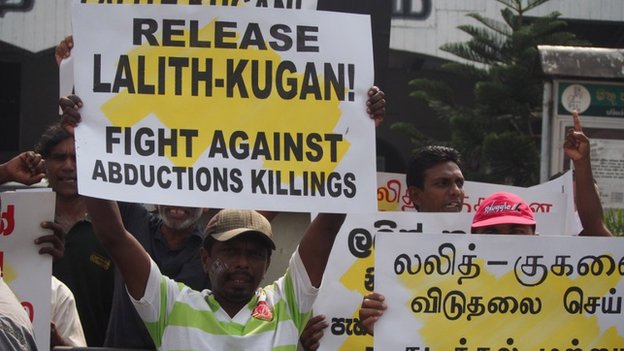 "Release Lalith and Kugan and stop abductions and torture," the crowd shouted at Tuesday's demonstration
Many of these date from the 1980s and 1990s but activists say hundreds of people, mostly ethnic minority Tamils, disappeared at the time of the government's war victory against the Tamil Tigers in 2009, including many who apparently vanished after surrendering to government forces or crossing to government-held territory.
'My only son'

"Release Lalith and Kugan and stop abductions and torture," the crowd shouted at Tuesday's demonstration outside the main railway station.
Lalith Weeraraj and Kugan Muruganathan vanished near Jaffna while preparing a demonstration to mark World Human Rights Day in 2011.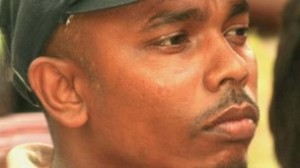 Lalith Kumar Weeraraju organised demonstrations on behalf of the families of missing people
Among placards held by the 500-odd protesters were depictions of white vans – a type of vehicle regularly associated with shadowy abductors – with the word "DON'T!" underneath.
"Lalith is my only son. I believe he is still alive," his father, Arumugam Weeraraj, told the BBC.
"He did nothing wrong. He was helping suffering parents."
He said his son, half-Tamil and half-Sinhalese, was well placed to help in such situations being fluent in both languages.
Pubudu Jayagoda, a spokesperson for a leftist group under which the two men were working, said that because the two had been abducted in a high-security zone "we believe the government should be responsible for this and the security forces are responsible for this".
He alleged that their motorbike had later been found in a police station and added "Stop all the abductions".
But the police spokesman, Ajith Rohana, denied the men had ever been taken into custody.
"We don't know what happened. No one saw it," he said, adding that a team of investigators was still operating.
In the eastern town of Trincomalee, which was severely affected by the war, another demonstration against disappearances was attacked by a pro-government crowd.
One of its organisers was admitted to hospital after sustaining injuries. Mr Rohana said a search for the culprit or culprits was going on.
In Jaffna members of the newly elected Northern Province council, controlled by the opposition Tamil National Alliance, held a protest inside the council premises to mark Human Rights Day.
They held placards and shouted demands including justice for what they described as the genocide of Tamils during the final stage of the civil war; progress on tracing missing former Tamil Tigers; and an inquiry into alleged war crimes.
The province's Chief Minister, CV Wigneswaran, took part as a silent protester
BBC