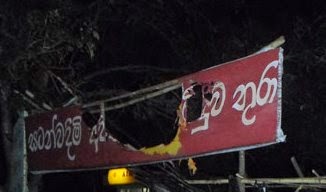 The temporary hut that sheltered Rajarata University student protesters was burnt for the third time early this morning. Rajarata University Students Federation member Lasantha Priyankara said a group of men came in a van and hurled a bottle of petrel to blaze the hut. However, students staying inside the hut at the time of the incident have not been injured by the blaze. The Student Sathyagraha which has demanded the university authorities to lift the class suspension on 28 students would complete 213 days today.
The Sathyagraha campaign is held while the university has been closed indefinitely, and our news team enquired about this situation from Rajarat
a University Students Federation member Lasantha Priyankara.
When our news team contacted the Mihintale police to comment on the students' allegations, its senior officer said police have informed the court about the previous attacks on the student hut.
He also said the incident occurred this morning was also reported to police over the police emergency Number 119.
A group of Rajarata University students kept the Vice Chancellor and four teachers by force on the 26th of last month and demanded the removal of class suspension on a group of fellow students.
Meanwhile 31 students remanded in connection with this incident were granted bail by Anuradhapura Magistrate Yuresha de Silva yesterday.
However the students were remanded again as they failed to provide bail conditions when they were produced before the court.
Meanwhile Rajarata University Vice Chancellor Professor Ranjith Wijewardana said the University Administrative Council is scheduled to meet on July 21st to take a decision on the re-opening of the university.