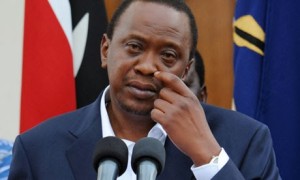 Uhuru Kenyatta
President Mahinda Rajapaksa will head to Kenya for talks, at a time the Kenyan leadership is facing a trial at the International Criminal Court (ICC).
President's spokesman Mohan Samaranayake said that President Rajapaksa will first travel to South Africa to pay his respects to the late South African President Nelson Mandela.

From there he is scheduled to head to Kenya and is likely to meet Kenyan President Uhuru Kenyatta who has been charged by the ICC of orchestrating deadly violence in Kenya in 2007.
President Kenyatta did not attend the Commonwealth summit in Sri-Lanka last month, becoming the first Kenyan President not to attend the event since Kenyan independence.
Kenya was represented by the country's Foreign Minister and President Rajapaksa's visit to Kenya, not just as the President of Sri Lanka but also as the Commonwealth chair in office, comes amidst reports Kenya was not happy with the Commonwealth Secretariat over its failure to back Kenya against the ICC trial.
The trial against the Kenyan President before the ICC will begin next February. (Colombo Gazette)