COLOMBO (AFP) – Sri Lanka's president has criticised the UN Human Rights Council as its top official toured the battle-scarred nation to probe alleged war crimes, according to state media Wednesday.
President Mahinda Rajapakse, who is on a trip to Belarus, has told his counterpart Alexander Lukashenko that both nations are being targeted unfairly by the UNHRC whose chief Navi Pillay is visiting Sri Lanka.
A banner headline in the Sri Lankan state-run Daily News branded the UNHRC an "anti-Lankan catspaw".
"President Rajapakse condemned the practice of certain countries using the UN Human Rights Council against countries such as Sri Lanka and Belarus," the paper said.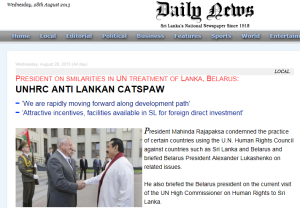 The state mouth piece Ceylon Daily News headline story
Pillay, who had earlier called for a war crimes investigation against Sri Lanka, told reporters at the start of her week-long visit that she was only holding Colombo to human rights standards agreed by all nations including itself .
"I am not writing my own statute. I am looking at the (human rights) framework that was also developed by Sri Lanka," she said.
"If I raise criticism, it is on whether they (Sri Lanka) comply with those standards," she added. "I have not come to criticise. I have come to raise human rights concerns."
Rajapakse left for Belarus on Sunday, the day Pillay arrived. But the two are due to meet in Colombo before she leaves on Saturday.
Both Sri Lanka and Belarus face a US-led censure resolution at the UNHRC and both have been asked to cooperate with investigators. They are accused of letting off rights violators and intimidating political opponents.
Pillay travelled to the island's former war zone in the north Tuesday and met relatives of people who disappeared during and after the government's crushing of Tamil separatists in May 2009, ending the decades-long civil war.
Pillay, who has previously been accused by Colombo of overstepping her mandate, is on her first official fact-finding mission since the government dropped its public hostility to her and promised free access.
Sri Lanka has resisted international pressure for an international investigation into what the UN says are "credible allegations" that up to 40,000 civilians were killed in the final months of the war in 2009.