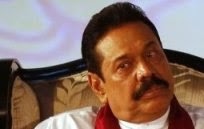 Several advisers to the President have requested the President hold a referendum immediately, government internal sources say.
Sources add that the advisers had requested the President to hold a referendum with regard to extending the tenure of parliamentarians by another 06 years as well as bringing about a constitutional amendment aimed at abolishing Executive Presidency and establish an office of Executive Prime Minister.
Pointing out the risk of certain groups within the UPFA coalition government itself pledging their support if the opposition fielded a common candidate to abolish the Executive Presidency, the advisers have urged that the President should acquire the honour of abolishing the Executive Presidency while preventing the opposition from uniting by taking opposition's slogan to his own hand.
The advisers have also stressed the necessity of ensuring an extension of parliament term to MPs in order to gain two-thirds majority for such a constitutional amendment.
Suggestion from govt. party
Noting that the two- thirds majority vote in Parliament is not sufficient to bring such a constitutional amendment, the advisers have also pointed out the necessity of holding a referendum.
They have also explained as to why the call for such a constitutional amendment needed to come from the government party itself, reports say.
Under a backdrop where a proper guidance is absent, the discipline of UPFA MPs within the parliament has also fallen, the advisers have said, further emphasising the necessity of Mahinda Rajapaksa prevailing in the parliament as Executive Prime Minister in order to achieve future political objectives.
However, the President has not positively responded towards extending the parliamentary term , sources add.