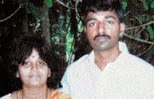 The couple
The chance arrest of Kathiravel Thayapararajah (33) by Indian authorities could help Sri Lankan security services to identify a network of human smugglers with possible connections to the overseas LTTE rump, official sources said. Authorities would explore the possibility of having access to Thayapararajah, whose arrest during the first week of May this year could be one of the most important breakthroughs made in investigations into bogus disappearances since the conclusion of the conflict in May 2009.
The External Affairs Ministry was expected to examine the possibility of having access to the suspect, sources said adding that the former director of Vanni Tech funded by US based Tamil Diaspora had gone underground in September 2009. After the man's disappearance his wife Uthayakala, foreign NGOs as well as a section of the media accused intelligence services of having executed Thayapararajah.
Uthayakala, too, was detained along with Thayapararajah soon after they had reached Tamil Nadu. They claimed they were fleeing government persecution in Sri Lanka.
A senior government official told The Island that Indian authorities would have to decide not only on Thayapararajah and his wife but eight others, including five children who had clandestinely entered India. Now that their false claims had been exposed, they would either have to be deported or given refugee status, the bureaucrat said.
The official said that Thayapararajah was among those who had been listed as missing following arrest by the security services. Responding to a question, the official pointed out that those who propagated lies accused the state of being behind systematic enforced disappearances during the conflict and post-conflict periods. Thayapararajah was categorised as missing since the conclusion of the conflict. The Tamilnet alleged that Thayapararajah was extra-judicially executed in Colombo in September 2009.
Meanwhile, a person duped by Uthayakala told The Island that she collected several millions of rupees from nine persons, including five women promising employment in the UK. Having made representations to the Indian High Commission in Colombo through the Indian Consulate in Jaffna, the group was now waiting for the Indian High Commission's response, the spokesperson for the group said.
by Shamindra Ferdinando
Island