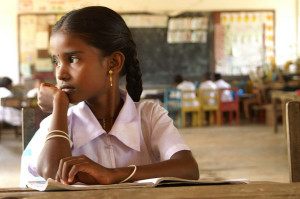 A Tamil student: Tamil population is deceasing
Population: Census expert disputes anti-Muslim claim
Dasun Edirisinghe
A senior census and statistics official yesterday disputed a claim being propagated in the country that the Muslim population is likely exceed that of the majority community. The Sinhala population in the country is 74.9 per cent according to the Basic Population Information Report of the Census of Population and Housing 2011.

Director, Population Census and Demography Division of the Department of Census and Statistics, Indu Bandara said that according to the 2011 census, the Muslim population was 9.2 per cent and the Sinhala population was 74.9 per cent. Sri Lankan Tamils and Indian Tamils were 11.2 and 4.2 per cent respectively.
The census taken in 1981 showed that the Sinhalese accounted for 74 per cent of the population, Muslims 7 per cent, Sri Lankan Tamils 12.7 per cent and Indian Tamils 5.5 per cent.
Answering a query, at a seminar held yesterday, at the Hector Kobbekaduwa Agrarian Research and Training Institute, Mrs. Bandara said that the Sinhala and Muslim populations had increased at the rate of 1.04 and 1.87 per cent respectively between 1981 and 2012, but it was not a threat to Sinhala people contrary to claims being made in some quarters to that effect.
She said it was also false to state that the Muslim population was higher than the Sinhala population within the Colombo Municipal Council area.
"There are divisional secretariats, Colombo, Timbirigasyaya I and Timbirigasyaya II, in the CMC area, but those reports were based only on the Colombo Divisional Secretary's area," Mrs. Bandara said.
According to the latest report, the Malay, Burgher, Chetti and other minor ethnic groups increased at the rate of 0.23 percent, she said.
Sri Lanka's population consisted of 70.2 percent Buddhists, 12.6 Hindus, 9.7 Islamists and 6.1 percent Christians, according to the census of 2012, Bandara said.
"The male population decreases year by year and the 20,263,723 total population, by 2012, was made up of 48.5% males and 51.5 females," she said, noting that the longer life expectancy of females and the migration of a large number of males in search of foreign employment could be the increase in female population.
The child population in 1981 was 35.2 percent and it had reduced to 25.8 per cent in 2012 while elderly population had increased to 12.2 per cent by 2012 from 6.6 per cent in 1981, Bandara said.
The senior official said that the working age population had increased to 62 per cent (2012) from 58.2 per cent (1981) and it was a boost to the country's development.
IS