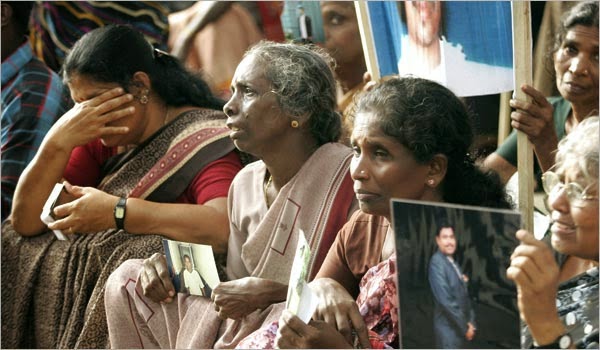 A Sri Lankan panel probing the disappearance of people during the country's nearly three-decade long civil strife has received nearly 18,600 complaints from the public, a senior official has said.
The presidential panel has so far held three sittings in January, February and March this year in Killinochchi, Jaffna in the north and Batticaloa in the east.The fourth round of public sittings is to be held in the Batticaloa district this week.
So far 18,590 complaints have been received, inclusive of approximately 5,000 from relatives of missing security forces personnel, panel secretary SW Gunadasa said.
The commission had thus far inquired into 462 complaints, which are being analysed for further investigations through an independent investigation team.
The commission's mandate was extended in February this year.
They would now function until mid-August this year.
The three-member panel came to be appointed to inquire into and report on alleged abductions and disappearances during the period from June 10, 1990 to May 19, 2009.
The period covers the commencement of the second military campaign by the Liberation Tigers of Tamil Eelam or LTTE to carve out a separate Tamil homeland and the end to their violence by the military's crushing
victory.
Both the LTTE and the government troops were accused of carrying out abductions of individuals during the conflict.
Sri Lanka has resisted repeated calls for an international probe into allegations that nearly 40,000 civilians were killed by government forces during the quarter-century civil war against the LTTE that ended in 2009.