Image: A protest was held against AGs decision in front of the court on 29th.
Additional Solicitor General, Nerin Pulle PC, had told the Court of Appeal that the Attorney General had not withdrawn the indictment against former Navy Commander the then Vice Admiral Wasantha Karannagoda in respect of the alleged abduction and disappearance of 11 Tamil youth in 2008, reports The Island.
He had said that when a writ Application, filed in the Court of Appeal by the parents of 11 children against the alleged withdrawal, was taken up yesterday (20 Oct).
But while local as well as international media reported that AG has withdrawn the charges against Karannagoda Human Rights organisations issued statements condemning AGs decisison'
Few such examples are given below:
"Sri Lanka drops charges against ex-navy chief over 11 killings" was the lead of a  news report report appeared on Internationally acclaimed Al Jazeera TV. it said:
"Sri Lankan authorities have dropped charges, including conspiracy to murder, against a former navy chief linked to 11 killings that drew international condemnation, the country's attorney general has announced.
The investigation against Admiral Wasantha Karannagoda was part of a case that cast a spotlight on extrajudicial killings during Sri Lanka's 37-year ethnic war that ended in 2009."
Amnesty International issued a press released captioned Sri Lanka: Authorities falter on accountability in 'Navy 11' case and said that the Sri Lankan Attorney General's Department today decided not to proceed with charges against  Wasantha Karannagoda, a former Navy commander, over his alleged role in the abduction of 11 Tamil youth in 2008 and 2009. The Sri Lankan Navy is alleged to have been behind the forcible disappearance of the "Navy 11"
The very same The Island said that "Disappearance of 11 persons:" AG withdraws indictment against Karannagoda"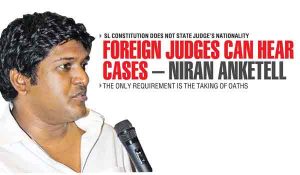 President's Counsel Romesh de Silva, who appeared with Niran Anketell and Sugath Caldera for the petitioner Karannagoda, has told the Court of Appeal that there was no reason to prosecute retired Karannagoda.
The Attorney General had only said he had to decide whether he could prosecute Karannagoda in the High Court, the Additional Solicitor General has  said.
Counsel Rohan Bopage, who appeared for the petitioner parents of the missing children, has said that the AG could not withdraw any indictment without giving reasons.
The petitioners had complained of a possible withdrawal of the indictment in the High Court against Karannagoda. The order on the issue argued yesterday will be given on November 01. The bench comprised Justice Sobitha Rajakaruna and Justice Dhammika Ganepola.
It looks like Attorney General Department id living in a parallel universe now a days, a senior lawyer told Sri Lanka Brief.