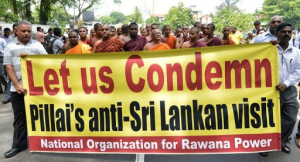 Pro-government activists led by monks protest outside the UN office in Colombo on August 26, 2013 (AFP/File, Ishara S. Kodikara)
(AFP) A senior Sri Lankan minister on Thursday accused the visiting UN human rights chief of holding "secret meetings" with activists during her ongoing fact-finding mission.
Housing minister Wimal Weerawansa said UN High Commissioner for Human Rights Navi Pillay "gave the slip to her bodyguards", appointed by the government, to hold unscheduled meetings in the island's former war zone in the east.

"She broke protocol, gave the slip to her security detail and went for secret meetings in Trincomalee to conspire against the country," Weerawansa told reporters in Colombo. "She is already planning a very adverse report."
Three years ago, the minister staged a hunger strike against UN Secretary General Ban Ki-moon's appointment of a panel of experts to advise on alleged war crimes in Sri Lanka in the final months of a separatist war.
Pillay arrived in Sri Lanka on Sunday for her first official visit after the government dropped its public hostility to her and promised access to the former war zones during the week-long mission.
Pillay, who has previously been accused by Colombo of overstepping her mandate, has told reporters she was only holding Colombo to human rights standards agreed by all nations.
Despite allowing the visit, President Mahinda Rajapakse this week criticised Pillay, accusing the UNHRC of treating his Indian Ocean nation unfairly.
Pillay this week travelled to the island's former war zones in the north and the east and met with relatives of people who disappeared during and after the government's crushing of Tamil separatists in May 2009, ending the decades-long civil war.
Sri Lanka has resisted foreign pressure for an international investigation into what the UN says are "credible allegations" that up to 40,000 civilians were killed in the final months of the war in 2009.
Copyright © 2013 AFP. All rights reserved.