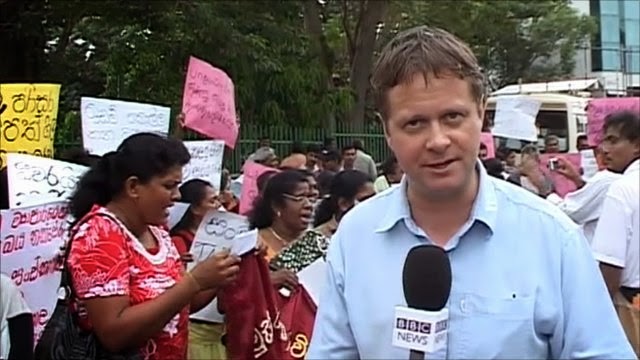 Reporting form SL, Charles Haviland
BBC's Haviland has to go, says Govt.
A request by the British Broadcasting Corporation (BBC) to grant a one-year extension of visa for its Colombo correspondent Charles Haviland has been turned down by the Sri Lankan Government.
Instead he has been given clearance to stay three more months with no further extensions of his visa.
Mr. Haviland was informed by Immigration officials that the request to extend the visa for one year has been turned down. No reason was given.
Mr. Haviland has been BBC's correspondent in Sri Lanka since March 2009.
Information Department Director General Prof. Ariyatratna Athugala told the Sunday Times that the decision was taken on a recommendation of the External Affairs Ministry.
However, Media Ministry Secretary Dr. Charitha Herath, in response to a question on Twitter, claimed Mr. Haviland's current status was the result of a visa policy that said foreign correspondents could stay in Sri Lanka a maximum of five years. Some, he said, were here for "more than 9, 10" years.
When asked where the policy could be seen, Dr Herath replied: "It is at Media Ministry. Will put on the web on Monday if you want. Just as other country [sic] these are country specific matters."
Dr. Herath could not say when the policy has been formulated or whether it has ever been enforced before. He said he needed to check that with the Ministry of External Affairs (MEA). He said that, while the policy was with the Media Ministry, it was implemented by the MEA.
A spokesman for the MEA, when asked whether there was a five-year policy for foreign correspondents, replied: "I am not aware. I think according to the Media Ministry there is. You have to check with the Secretary of that Ministry. I presume there is such a policy."
Mr. Haviland's request for a one-year visa had been forwarded to the Media Ministry which recommended a three-months extension. This was duly communicated to the Immigration Controller who in turn informed Mr. Haviland.
Meanwhile, an official from the Department of Immigration and Emigration said he too, did not know of a five-year policy for foreign correspondents. He said he was aware that there was a three-year visa policy for United Nations staff and a five-year policy for staff of international non-governmental organisations.
There have been several foreign correspondents who have stayed–and continue to stay–beyond five years