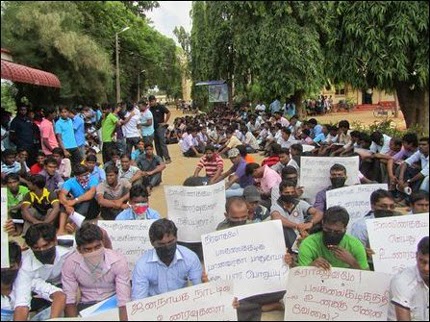 File photo of Jaffna Uni protest
SL commander warns students against Mu'l'livaaykkaal remembrance in Jaffna
The commander of the occupying Sri Lankan military in Jaffna , Major General Udaya Perera, on Wednesday told Jaffna University students and academics when Ms Vasanthy Arasaratnam, the vice chancellor of the University, took them to a meeting with Major General Udaya Perera at Thal Sevena resort situated in SL military-appropriated Kaangkeasanthu'rai (KKS) of Valikaamam North.
No one would be allowed to take part in any collective events of remembrance on Mu'l'livaaykkaal Day, the SL commander told the students and the academics.

In the meantime, a section the SL military intelligence operatives have distributed anonymous leaflets with death threats on those who mark Mu'l'livaaykkaal Day.
The SL military commander in Jaffna is not only denying the Eezham Tamils their democratic right to pay tribute to those who perished in the genocidal onslaught, he has also passed a message to the world that it is now the SL military, which is running the civil affairs in the occupied country of Eezham Tamils, a student leader told TamilNet Wednesday.
The Vice Chancellor of Jaffna University Ms Vasanthy Ariyaratnam was responsible for taking the students and faculty deans to the meeting with SL military commander, the student leaders further said.
Jaffna University Student Union representatives told TamilNet that the SL military intelligence operatives were entering the University premises under the cover of visiting Sinhala students.
On Wednesday, the SL intelligence operatives put up anonymous leaflets threatening the academics and students who have voiced for the collective right of remembering those who perished in the genocidal onslaught.
"Professors are guiding the student associations in supporting terrorism and this is the final warning to them," the leaflet put up by alleged SL military intelligence operatives at the premises of Jaffna University on Wednesday claims.
The leaflet threatened academics and students mentioning the names of Art Faculty Dean Professor V.P. Sivanathan, Jaffna University Teachers Association lecturer A Rajakumaran, Jaffna University Student Union leader Subahar, Art Faculty Student Union leader Komes and Science Faculty Student Union leader Venugopan.
A leaflet put up inside the premises of Jaffna University by the SL military intelligence wing
Udaya Perera was trained and awarded in the US Army War College in 2012, after his role as director of SL Army operations in the genocidal onslaught in 2009 followed by two years of counter-insurgency foreign service in Malaysia. He is now deploying new tactics for furthering the structural genocide against Eezham Tamils in his position as the commander of SL military occupying the peninsula.