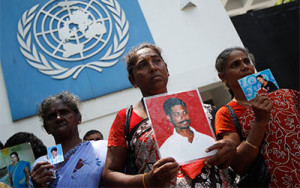 Sri Lanka's president on Wednesday appointed a commission to investigate wartime abductions and disappearances ahead of an update to be given to the United Nations Human Rights Council on the country's progress in investigating alleged war crimes and human rights violations.
President Mahinda Rajapaksa's office said he appointed retired Judge Maxwell Parakrama Parnagama to head the three-member committee.
The appointment comes ahead of a visit by U.N. High Commissioner for Human Rights Navi Pillay later this month. Her office will update the human rights council on the findings of her visit during its session next month.
The council in March approved for a second successive year a United States-backed resolution calling on Sri Lanka to more thoroughly investigate alleged war crimes committed by both sides during its civil war with Tamil Tiger rebels. It also directed Pillay's office to update the council on Sri Lanka's progress.
The presidential commission was given the "authority to conduct inquiries and investigations necessary, and submit a report to the president within six months," Rajapaksa's office said. In his instructions to the commission he "stressed the necessity to identify the persons responsible … and to take legal action against those persons," it said.
In May 2009, Sri Lanka's military defeated Tamil Tiger rebels who had fought a quarter-century civil war to create an independent state for ethnic minority Tamils.
A U.N. report has said that Sri Lanka's ethnic Sinhalese-dominated government may have killed as many as 40,000 Tamil civilians in the final months of the war. Rajapaksa's government is also accused of abducting suspected rebels, human rights activists, and critical journalists during and after the conflict. Many of those abducted are feared dead.
The rebels are also accused of killing civilians, using them as human shields and recruiting child soldiers.
Sri Lanka's government initially denied any civilian deaths but amid growing international pressure appointed a Lessons Learnt and Reconciliation Commission which dismissed allegations that the military intentionally killed civilians but called for investigations into civilian deaths.
Copyright 2013 The Associated Press. All rights reserved. This material may not be published, broadcast, rewritten or redistributed.
By Associated Press, Published: August 14
WP