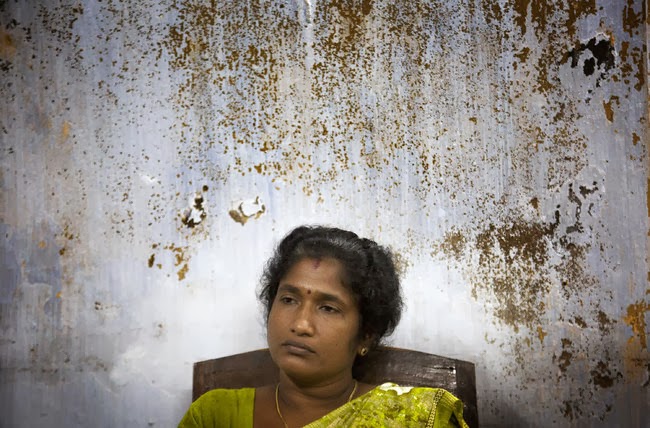 Ananthi Sasitharan ( Photo ;NYT)
[TamilNet]
"The International Community has deceived the genocide affected Tamils on delivering international investigations," said Ananthy Sasitharan, a councillor of the Northern Provincial Council at a press conference held in Jaffna on Thursday. "The draft resolution being criculated in Geneva has failed to satisfy even the minimum expections totally disregarding the repeated requests from Tamils to deliver international investigations, and in complete contrast to the impressions given to the Tamils by the international community," she told the press. Ms Ananthy Sasistharan also blamed TNA parliamentarian M.A. Sumanthiran for having instructed her to be silent at a crucial meeting with the representatives of 18 countries during her recent visit to Geneva.
"There was no restriction placed on me before I left the island. In fact, I was encouraged by the ITAK leaders and the Chief Minister of the NPC to accompany the ITAK delegation to Geneva," Ms. Ananthy told the reporters at Jaffna Press Club.
"However, after a couple of meetings at Geneva, I was instructed by Mr Sumanthiran — especially before a crucial meeting with the representatives of 18 countries — that I should refrain from addressing the delegates directly. He justified his stand by telling me that there was a perception among the international players that I was linked to the Tigers in the past and adviced me to remain silent," she said.
Mr Sumanthiran was only demanding to extend support to the resolution to be tabled by the USA. The need for investigating war crimes was mentioned, but he didn't demand an international investigation, she said adding that there was no mention of genocide despite a resolution was passed in the NPC demanding international investigations on the situation equivalent to genocide, Ananthy told the reporters who were repeatedly asking her to clarify whether Mr Sumanthiran demanded an international investigation or not.
However, Mr Sumanthiran took up the issues of land grab, the conduct of SL Defence Secretary Gotahaya Rajapaksa in the militarisaton and the question on what happened to the surrendees and the missing people, she said.