Rtd Admiral Sarath Weerasekara who attened the UNHRC 34th session representing former president Rajapkasa led Joint Opposition (JO) says that he has a list of tratiors who shoud be hanged. He further says that once the Rajapaksa come back to power they will file cases against them and if proved gulity they will be sentenced to death.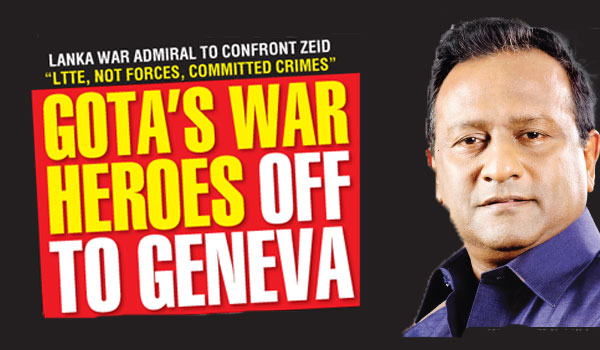 In his interview he has mentioned 3 names of such tratiors: Dr. Paikiyasothy Saravanamuttu, Dr. Nimalka Fernando and Sunanda Deshapriya.
He has stated his opinion in an interview with a English weekly with is being publishd by another Rajapaksa supporter.
A summarised version of his interview follows:
I saw government representatives seated there in Geneva and the NGOs registered with the UN. I observed that only I spoke for 90 seconds in two general debates and I find many separatists Tamil pro-LTTE groups coming through various NGOs including persons like Dr. Paikiyasothy Saravanamuttu, Dr. Nimalka Fernando and Sunanda Deshapriya who spoke against the government and soldiers.
I am disturbed to hear some of these NGOs telling that young Tamil women are being used as sex slaves in our army camps. Do you think it's correct? Persons like Nimalka Fernando should deny such claims.
They are still claiming even now that Tamil women are being used as sex slaves. If we come to power these traitors should be charged with treason. That is what I would advise the government that comes to power next time. These people are traitors letting down the entire country and the armed forces.
They are not asking for justice. They are asking for a separate Tamil homeland.
The government should address them and take judicial decisions. In other countries it takes years to establish the truth but only we are being rushed by everybody because we defeated the LTTE.
I cannot send anyone to gallows, but I have a list of names. When the next government comes to power, we will file cases against them for treason. If the charges are proved beyond reasonable doubt, the punishment would be death. We don't need a military government to do that. Anyone can file a case against anybody.
I think as in the US, Singapore and UK, people here must be given military training to be disciplined.
Summrised edited version of relavent paragraphs from a longer interivew published Ceylon Today on 9 April 2017