The Government moved yesterday to take control of the Chair of the crucial Parliamentary Committee on Public Finance, passing a motion in the House enabling its members to decide who chairs the committee.
The motion to amend the Standing Orders of Parliament, which stipulates that the Chair of the 11-member Public Finance Committee should be a member of the Opposition, was carried in the House by a majority of 60 votes, with 87 voting for and 17 against.
When the motion was moved at the commencement of public business by Leader of the House Foreign Minister Dinesh Gunawardena, MPs of the Samagi Jana Balawegaya (SJB) opposed it, stating that the position of Chair should be given to the Opposition.
SJB Colombo District MP Dr. Harsha de Silva, whose name had been proposed by the SJB to head the committee, called the move undemocratic and insisted the Chair should remain with the Opposition.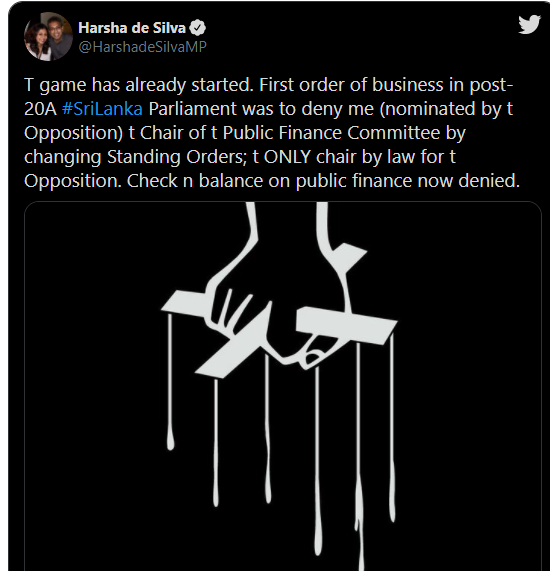 De Silva highlighted that the Opposition has the chairmanship of only one parliamentary committee. "This is an issue of democratic practice in the House. I have been proposed by my party for the post of Chairman of the Committee on Public Finance. Is the Government afraid of me?" he queried.
The Leader of the House however refuted the charge and said the decision to vest the committee with the power to pick the chairperson was made by the committee itself.
"The most democratic thing is vesting the power of electing a chairman to the committee with the committee members themselves. The Government commands the majority. If you do not agree, let us put this to the House for a vote, and we can act according to the result of the vote," said Gunawardena.
Following this interaction, Speaker Mahinda Yapa Abeywardena called for a vote which was passed with a majority voting in favour.
The Committee on Public Finance is tasked with examining, among other things, the collection of revenue under Article 148 of the Constitution, payments from the Consolidated Fund, the implementation of the Appropriation Act for the current year, public debt and debt service, and reports and statements under the Fiscal Management (Responsibility) Act, No. 3 of 2003.
It was chaired by TNA MP M.A. Sumanthiran in the previous Parliament.
Last month, the Government took the chairmanship of the two other important oversight committees, the Committee on Public Enterprises (COPE) and the Committee on Public Account (COPA), both of which had been helmed by Opposition Lawmakers in the last Parliament.
By Chandani Kirinde /Daily FT