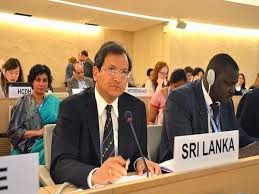 SL AMB Ravinatha at UNHRC
The resolution against Sri Lanka which was passed in Geneva on Thursday has been condemned as "counter –productive," by the country's most powerful business chamber.
Ceylon Chamber of Commerce Chairman Suresh Shah, speaking with the Sunday Times on the sidelines of a media briefing held to announce 175 years of doing business in Sri Lanka last Monday (before the resolution was taken up), said it was "counter-productive" to the entire reconciliation process. Highlighting it to be a "political issue", he noted that however, looking at it from a business perspective it was "not fair."
On the other hand, he explained it was in fact "counter-productive" as the focus must be on the process of reconciliation and this resolution was simply not helping anyone.

The US-backed resolution was tabled at the United Nations Human Rights Council (UNHRC) sessions in Geneva and passed on Thursday. It is calling for an international independent and credible investigation into alleged humanitarian and human rights law violations in Sri Lanka.

On the same issue, the Chamber of Construction Industry (CCI), Sri Lanka said external interventions through UN resolutions can undermine rather than complement Government's thrust to lock into a "timeframe of change for the betterment of all peoples of Sri Lanka".

Chamber President Surath Wickramasinghe said the Council of the CCI firmly believes that all issues encompassed within a genuine process of reconciliation require time and space. "The key is to affirm the intent to undertake the process and not to derail its overall mission of nation building," he said in a statement.
ST