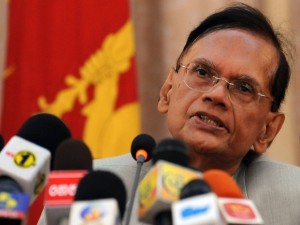 Add caption

External Affairs Minister Professor G.L Peiris today took another swipe at the UN High Commissioner for Human Rights Navi Pillay over some of the remarks she had made at the press briefing in Colombo last Saturday.
Minister Peiris, who had only two days ago, while speaking to the media in London, rejected some of the concerns raised by Pillay, today expressed "profound regret" and "deep sadness" at her views.

He said that Pillay, in particular chose to ignore relevant and compelling evidence on the army role and presence in the north.
Speaking at a defence seminar in Colombo today, the Minister said that the UN had once confirmed in a report that the public in the north saw the presence of the army as a source of comfort.
He said that the report was based on a detailed survey carried out by the UN refugee agency UNHCR and the UN office dealing with humanitarian assistance UNOCHA, on public attitude and perceptions in the Northern Province.
The Minister said that these UN agencies had interviewed 197 people selected by the UN system at random to conduct the survey in the North.
Peiris said that he handed over copies of the UN assessment report to Pillay when she met him in Colombo.
However he said Pillay had ignored the UN's own assessment and went on to say there are cases of sexual harassment.
The Minister said that women in the north had been quoted by the UN report as saying they felt safe and yet Pillay says otherwise.
"We are dismayed by the kind of approach that is being adopted to the preparation of this document (Pillay's statement) and the comments that were made at the time of its presentation to the media," he said.
The Minister said that Pillay's report reflects misinformation and false propaganda being spread about the military.
The Minister also said that the UN system is being selective through the approach taken by Pillay when dealing with Sri Lanka as opposed to with other countries.
September 4, 2013 (Colombo Gazette)