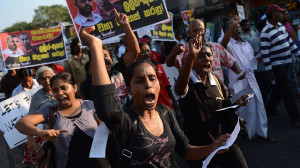 Sri Lanka: Activists campaign for the release of two disappeared colleagues ( C 4 Photo)
Jonathan Miller Foreign Affairs Correspondent
Amnesty International says Sri Lanka should not host November's Commonwealth heads of government meeting unless it stops "systematic violation of human rights".
Amnesty International brands Sri Lanka's government a regime
There has been a surge of indignation among human rights groups over the staging of the summit in Colombo. On Friday, the Canadian Foreign Minister broke ranks with fellow members of a Commonwealth steering committee, saying he was "appalled" that the CHOGM would be taking place in Sri Lanka.
Channel 4 News has meanwhile learned from a Commonwealth insider that had any other member state unconstitutionally impeached its chief justice – as Sri Lanka did in January – it would probably have triggered immediate action by the organisation. The feeling among some members of the group's ministerial steering committee, which met in London last Friday, is that Sri Lanka got away with it simply because it is hosting CHOGM.
Ten days ago, the Commonwealth Lawyers Association passed a resolution calling for Sri Lanka's suspension from the Commonwealth altogether. But discussion of even moving the location of CHOGM did not make it onto the formal agenda of last Friday's foreign ministers' meeting. "It would have been a logistical nightmare to change the venue," said a Commonwealth source.
Another senior insider told Channel 4 News that Sri Lanka's minister of external affairs, Professor GL Peiris, informed the Commonwealth secretary general, Kamalesh Sharma, that placing discussion of Sri Lanka on the meeting's formal agenda would set a dangerous precedent, enabling Commonwealth countries to interfere in each others' internal affairs. This, he reportedly said, could lead to the disintegration of Commonwealth values.
'Undermining shared values'
But Sri Lanka's critics say that Colombo's hosting of CHOGM and its subsequent two-year chairmanship of the Commonwealth will undermine these "shared values", as set out in the new Commonwealth Charter – signed by the Queen six weeks ago.
Hugh Segal, a Conservative Canadian senator recently dispatched by his country's prime minister on a fact-finding tour of Sri Lanka, was excoriating in his criticism of the regime in Colombo, when interviewed by Channel 4 News (see video above).
My assessment is that the space for democracy and dissent (in Sri Lanka) is being radically reduced. -Hugh Segal, Canadian senator
"My assessment, frankly, is that the space for democracy and dissent is being radically reduced," he said. "Ensuring that there is no broad democratic expression – and that of course is a complete violation of Commonwealth values – freedom of the press, freedom of expression, freedom of assocation… we come away with a sense that the situation was getting worse and not better.
"And that," he added, "is without even addressing the issue of the impeachment of the chief justice by non-constitutional means."

'Equating dissent with treason'
In Assault on Dissent, a report released on Tuesday, Amnesty International accuses the administration of President Mahinda Rajapakse of intensifying its effort to eradicate dissent and promoting an official attitude that "equates dissent with treason".
"Sri Lankan officials and state-owned media employ the term 'traitor' with alarming frequency against detractors," the report says, "often threatening death or injury to the person accused." It says that there have been no prosecutions of suspected perpetrators of these threats and attacks – which it alleges include arrest, repeated interrogations and enforced disappearance.
Sri Lankan officials and state-owned media employ the term 'traitor' with alarming frequency against detractors. Amnesty International report
The report goes on to list groups of those whom it says have been verbally or physically abused or intimidated. They include human rights advocates, women's and workers' rights advocates, student leaders, university lecturers, clergy, trades unionists, party activists, judges, lawyers and journalists.
It is now four years since the Sri Lankan military ended the 30-year-long Tamil insurgency – at the cost of more than 40,000 civilian lives, according to the United Nations – but allegations of persistent human rights abuse have continued. "A volatile situation has built up," the Amnesty report says, "as popular demands for reform are met with continued repression…"
Last Friday, in a news conference at Marlborough House, Commonwealth Secretary Geneneral Kamalesh Sharma said he was fully persuaded that Sri Lanka was sincere in subscribing to and following Commonwealth values.
Channel 4 News sought a response directly from the Sri Lankan high commissioner in London to concerns raised by these groups, but has received no response.
C4