Image: A group of Sri Lankan HRDs attending HRC 34 ©s.deshapriya.
The Council then held an interactive dialogue on promoting reconciliation, accountability and human rights in Sri Lanka.
Zeid Ra'ad Al Hussein, United Nations High Commissioner for Human Rights, presented his report pursuant to Human Rights Council resolution 30/1 on Sri Lanka, saying there were some positive advances in some areas, yet noting that progress to establish transitional justice mechanisms had been slow.  A number of measures must be accelerated, including the repeal of the prevention of terrorism act and the design of truth and reparation processes.  Continuing unwillingness or inability to address impunity reinforced the need for international participation in a judicial mechanism.  That mechanism should include a special counsel, foreign judges and defence lawyers, and authorized prosecutors and investigators.  At the centre of all of the efforts were the victims: there could never be sustainable peace without justice for them.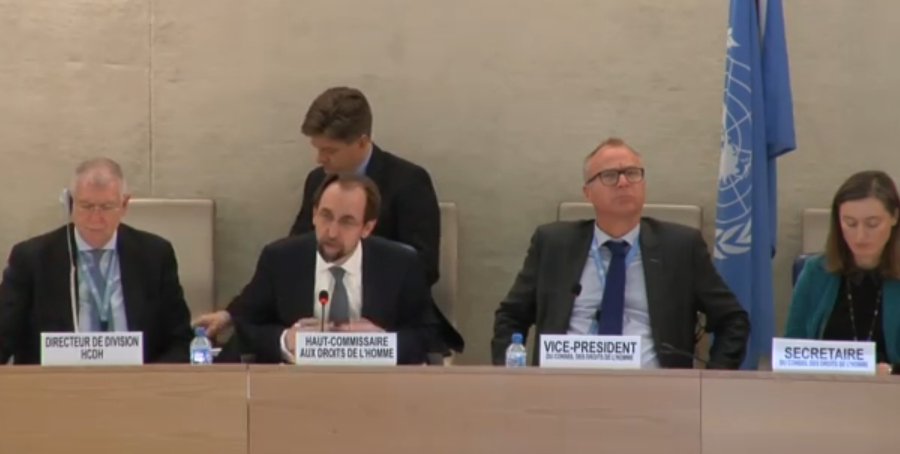 Sri Lanka reiterated its resolve and commitment to the reconciliation process and announced it planned to co-sponsor the resolution on Sri Lanka, which included a two-year extension for the timeline for the implementation of its commitments.  Sri Lanka expressed its commitment to continue its engagement for the benefit of its people, working to promote and protect human rights.  It recognised the need to strengthen its institutions and achieve economic progress.  It affirmed the country's firm position to enhance the fundamental rights of all the citizens as equals in a free and democratic country, where the reconciliation process recognised the impact of conflict on all citizens, independently of their origin or status.
During the ensuing discussion, delegates acknowledged progress made by Sri Lanka toward implementing its key human rights, justice, and reconciliation commitments, while also pointing out numerous outstanding challenges remaining, such as ending torture and sexual and gender-based violence.  Several delegations urged Sri Lanka to take action as regards the prevention of terrorism act.  They also said that strengthening the rule of law was another area that should be prioritized.  The importance of the international community's continued support to Sri Lanka was underscored by several delegations.  Many addressed the issue of transitional justice and expressed concern about the slow pace with which it was being implemented.
Speaking were the delegations of European Union, Canada, Czechia, Germany, Montenegro, Denmark, France, Switzerland, Japan, Australia, United Kingdom, China, Pakistan, New Zealand, United States, Estonia, Sudan, The former Yugoslav Republic of Macedonia, Norway, Ireland, Spain, United Nations Children's Fund, Belgium, Netherlands, Russian Federation, Ghana, Maldives and Bangladesh.
The following civil society organizations also took the floor: Tourner la page, International Movement against All Forms of Discrimination and Racism, Pasumai Thaayagam Foundation, Asian Forum for Human Rights and Development, Dominicans for Justice and Peace, Minority Rights Group, Franciscans International, and Amnesty International.