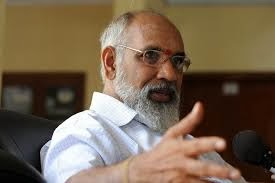 The Chief Minister of the NPC called for international action against the Sri Lankan government's program of settling Sinhalese families on Tamil-owned land forcibly appropriated by the military.
He said he had done everything possible to appease the Sinhalese and win back Tamil rights and he had reached the end of his journey. Now he calls for international action to stop colonisation of the North-East.

"This cannot be stopped by us alone, and the international community must take action. Only if the international community acts will our situation change," Wigneswaran said.
He was speaking to reporters after meeting with the United Nations Special Rapporteur on Internally Displaced Persons, Dr. Chaloka Beyani, in Jaffna.
Four years after the armed conflict, tens of thousands of Tamils remain displaced in the Northern and Eastern province as the Sri Lankan military refuses to withdraw from their residential and agricultural lands.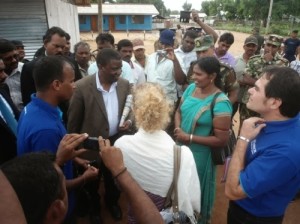 Dr. Chaloka Beyani, meeting Tamil IDPs
Occupied through successive military operations since the nineties, dozens of villages and surrounding farms remain encompassed into sprawling 'High Security Zones'.
Instead of allowing the property owners to return home, the Sri Lankan government has forcibly appropriated the occupied lands and begun settling Sinhalese.
With the military dominating "all avenues of employment, in all spheres [of economic activity]", the displaced Tamils are being forced to borrow to survive, the Chief Minister said.
Outlining his conversation with the Special Rapporteur, Wigneswaran said,
"I informed the envoy that in Valikamam North, more than 6000 acres of land had been appropriated by the military and I gave details of so much more in the Killinochichi District as well."
"On the basis of their present activities, they plan to stay in the North for a further hundred years, which really means that they plan to bring people from the South and resettle them along with army families."
"Similar to what they did in the East, they are trying to colonise the North as well, which cannot be stopped by us alone, and so the international community must take steps. Only if the international community acts will our situation change."
"[I told the Special Rapportuer] this should be brought to notice of international community which should take steps accordingly."
"Livelihood of residents of the North had been seriously affected and they take loans for their day to day living. All avenues of employment had been taken over by the army, who carry out work in all spheres including agriculture, fisheries and trade, denying opportunities to the people.
"I explained to the envoy that the people were facing severe difficulties as a result."
Dr Beyani also visited the Konapulam IDP camp at Valikamam north. The UN Special Envoy, who visited Jaffna today had meetings with the Northern Province Governor Major General (Rtd) G. A. Chandrasiri at his residence, Jaffna Government Agent Sundaram Arumainayagam at his office and the Northern Province Chief Minister C. V. Wigneswaran at his residence.
ES