Community based organizations in North and East Sri-Lanka, civil organizations and families of PTA detainees held home based protest to release the Tamil women detained under PTA.
Amidst the pandemic lockdown and as well as in a state of emergency this war affected people upheld the rights of the detained Tamil women.
Sri-Lankan Counter Terrorism and Terrorism Investigation Division (CTID) and police have arrested the above-named Tamil women Diveniya, Jinitha and Thuvitha under PTA and detained them for months without a trial. The draconian law Prevention of Terrorism Act (PTA) has been used to arbitrarily arrest and unlawfully detain these women without proper reasons.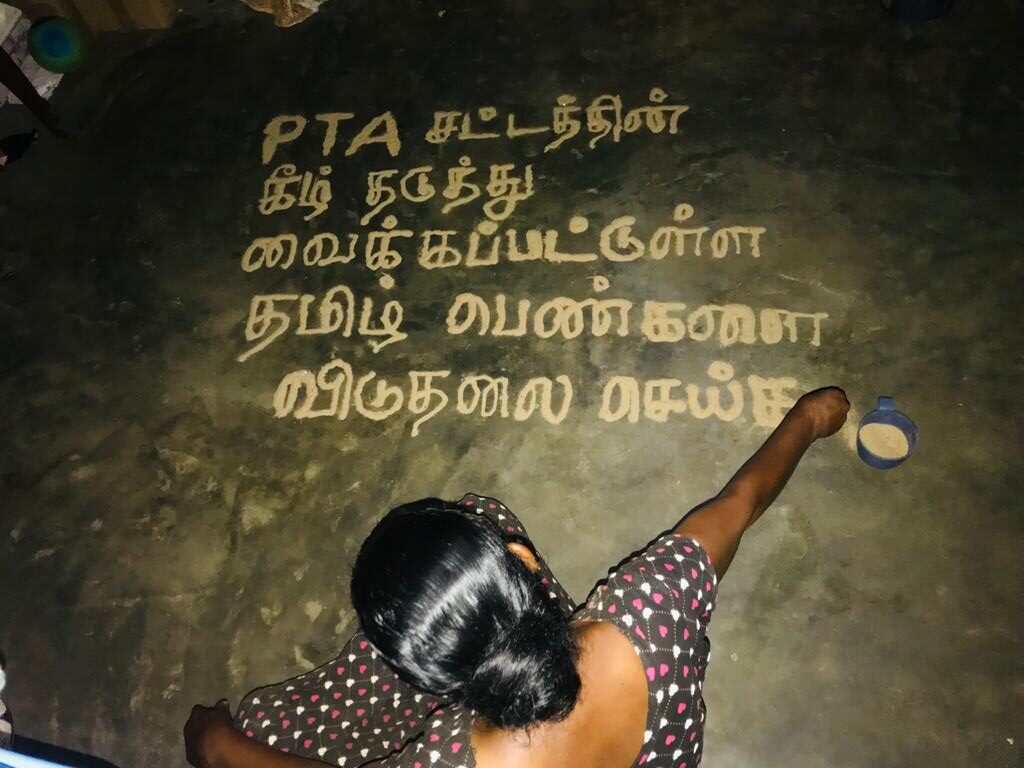 Ms. Diveniya Nilukshini Mann Mukunthan (35 yrs), a single mother of 09 yrs old autistic girl child, has been arrested by the CTID on 29 th March 2021 at 6.30 am in Jaffna. During the period of her arrest Diveniya had been working as a media person/director of "Tubetamil" you tube channel which office was based in Navalar Road, Jaffna. On the particular day early morning the office was cordoned by the CTID and the arrest took place at the office. Her colleague and director of "Thamil Kodi" Mr. Nimalraj Juvanis (36yrs), a father of a 5yrs old boy child was arrested at his home in Jaffna at the same time. Both were taken to the TID head quarters in Colombo.
Divaniya's autistic daughter has been living with Divaniya's parents in Kilinochchi, and Divaniya's father Mr. Sivarathinamaan Victor Mann Loganathan died due to COVID-19 on 21 st August 2021. Divaniya's mother Ms. Krishnaveni states, that her daughter Divaniya had not involved in any illegal activities and based on fabricated falls accusations she has been arrested. Further, she stated that Divaniya was allowed to speak to them only two times so far for few minutes and the phone was in out speaker mode to hear the conversation by others who were near Divaniya.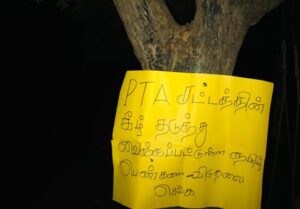 Krishnaveni mentioned, lawyers also not yet allowed to meet her daughter and she worried that she has not known any news about her. Krihsnaveni also summoned to the TID office in Kilinocchi and was inquired by them.
Divaniya is detained in Tangalle down south detention center. President's Counsel and leading lawyer K. V. Thavarasa has appeared on-behalf of her.
Ms. Jinitha Thayakaran(33 yrs), is a married woman and mother of a 4 yrs old boy child. Her husband is working in Middle Eastern country and Jinitha lives with her son in Kiran, Batticaloa district. On 18 th May 2021 she was invited by the organizers to attend the Mullivaikaal memorialization to remember the people who died in the final stages of the war which was held in Kiran beach and Jinitha also went there to light oil lamps along with others. While people were leaving the location police went to the location and arrested her under PTA along with nine other people including a woman. She is detained in Batticaloa remand prison.
Ms. Thuvitha Panjaatcharam (28 yrs), is a married woman and a mother of a 5yrs old girl child.
She lived with her husband and daughter in Vaharai, Batticaloa. She also went to the memorialization event which took place at the Kiran beach and was unexpectedly arrested under PTA on 18 th May 2021.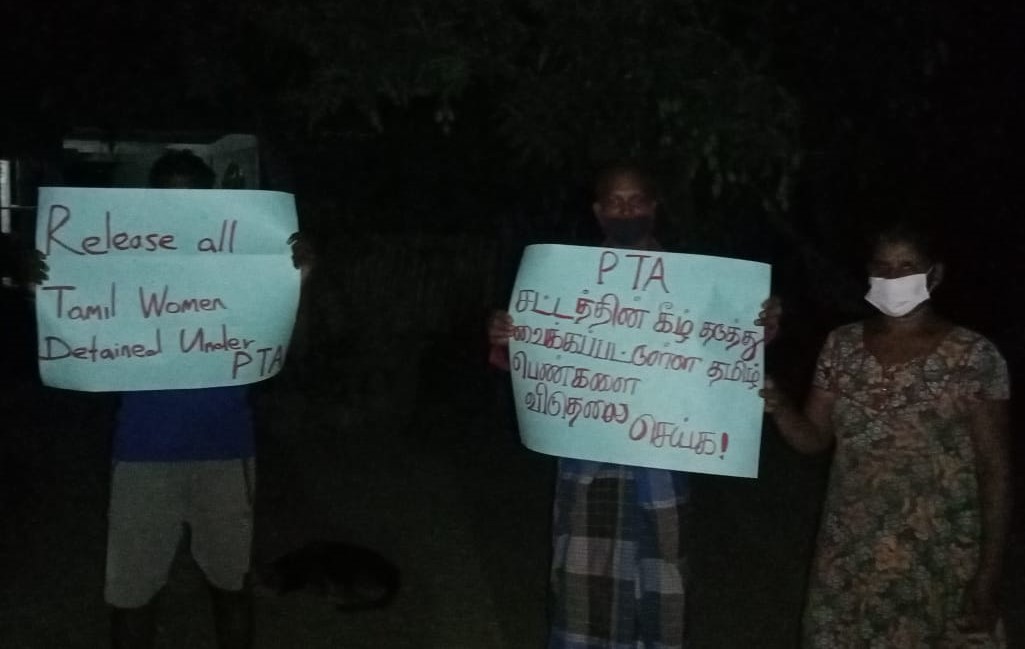 Men who have been arrested along with these women are Singarathnam Saththiyarasan, Selvenayagam Nesan, Kurusumuththu Lavakumar, Vinayagamoorthy Pratheepan, Singarathnam Saththiyadhasan, Arumugam Sasigaran, Alagarathnam Krishna and Kandhalingam Jesusagayam.
All of them are remanded in Batticaloa prison.
All of them were produced six times in-front of the Majistrate's Court in Valaichenai, but continuously being detained without facing a trial. Once in a week they are allowed to speak to their families.
Families of these detainees are under the continuous surveillance of the intelligence and threatened by them not to speak any thing to outsiders. This has made these families to live in fear.
Memorialization is one of the key aspects of transitional justice and national reconciliation process. Sri-Lankan government is responsible for arresting and detaining women who participated in memorialization.
Therefore, the affected families, communities, and civil society organizations in North and East Sri-Lanka demand the Sri-Lankan government to immediately release all Tamil women detained under PTA.
14 th September 2021
Sri-Lanka
NECC, SriLanka.