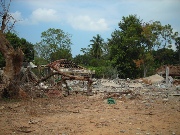 Puthukudyiruppuafter war
Over three years after the end of the civil war, Sri Lanka has launched the process of resettling people displaced in the conflict at a town in the northern province which was once the nerve centre of the LTTE.
The resettlement ministry said Saturday that some 380 families or 1204 people are to be resettled at east Puthukudyiruppu (PTK), having moved them away from the Manik

Farm welfare camp in Vavuniya in the north where they were putting up.
Out of this some 206 families or 636 people were settled in their original locations at east Puthukudyiruppu (PTK).
About 174 families or 569 people would be settled on Monday at Mallitathivu area of PTK.
PTK was LTTE's military nerve centre until the rebel group came to be defeated in May 2009.
The resettlement of the displaced people was hampered by the slow progress as PTK was heavily booby-trapped by the LTTE given its importance as a nerve centre.
At the end of the conflict a near 300,000 civilian population who lived in areas under LTTE control were housed in the Manik Farm camp.
The UN's humanitarian office just last week commended Sri Lanka's resettlement effort since the end of the conflict.
IE