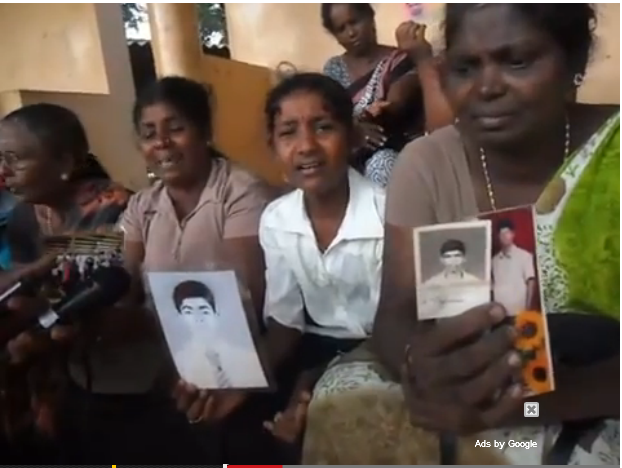 Jayakumari and her daughter (photo:uktamilnews)
Yesterday (13th March 2014) one of the leading Killinochchi activist and her daughter who have been in the frontline protesting and demanding for the whereabouts of missing have been arrested by the CID.Balendran Jayakumari (resident of Tharmapurum) and her daughter Vithushaini (13 years) have been detained in their home ( No. 5 Musalumpitty, Pullium Pokkanai, Tharmapurum , Killinochchi- Indian housing scheme) from around 4 pm till around 10 pm. Jayakumari called a politician around 4 pm and complaint that her house has been surrounded by the army.Around 4.30 one of Jayakumari's friend K (who is also an activist and looking for her missing child called), Jayakumari answered the phone said she is at home but there are problems then her phone was answered by a man who asked her friend (K) who she is, why she is calling her.
When K said her child is sick and she is at the Vavunia hospital and needs Jayakumari's help, the man cut the call and thereafter Jayakumari's phone was switched off. Since then there is no communication with her.
Jayakumari is a mother of three boys (two of them are killed and one is missing) and one girl. Both the mother and daughter have been in the frontline of many protested organized by Mannar citizens committee and families that are looking for missing and disappeared members. She and her daughter have been featured in many video documentaries on disappeared including the Channel 4 that was released in Nov. 2013. Beside Jayakumari has been the leader of mobilizing the families in Killinochchi for various hearings, public protests and meetings. She has met many visiting diplomats and media persons. Jayakumari's one son was killing in Trincomalee, the second one died of a shell attack in Mullivaikal. She handed over her third son (Balendran Mahinthan) to SL army in May 2009 and at that time he was 15 years old (was recruited by the LTTE last minute). One of the government LLRC publications (on the release of rehabilitated cadres) carried his photo and this has been Jayakumari's strong evidence that she gave her son to SL military.
Unformed reports say that Jayakumari and her daughter have been brought to Vavunia for further investigation.
Police spokes person Ajith Rohana stated to BBC Tamil yesterday night that a shooting incident took place in Tharmapurum on 13th morning and the suspect has escaped and they have identified a house where the suspect has been hiding and two women have been investigate. He also stated one of their police officers have been injured in the shooting incident.
By Women's Action Network (WAN)