(New York/HRW) – Sri Lanka's latest counterterrorism bill falls far short of the government's pledges to the United Nations Human Rights Council to end abusive detention without charge, Human Rights Watch said today. The Cabinet approved the third draft of the Counter Terrorism Act (CTA) on May 3, 2017, but no parliamentary vote has been set.
While the bill improves upon the draconian Prevention of Terrorism Act (PTA), it would still permit many of the abuses occurring under current law, and raises a number of new concerns. To meet its promises to the Human Rights Council, the government should reject any counterterrorism legislation that is not in accordance with international best practices.
"Sri Lanka's counterterrorism bill buries its abusive intent under detailed procedures, but it still won't protect people from wrongful detention," said Brad Adams, Asia director. "While some provisions could prevent abuses, the fundamental danger of prolonged detention without charge remains. This isn't what UN member countries sought when they agreed that Sri Lanka would reform its security laws."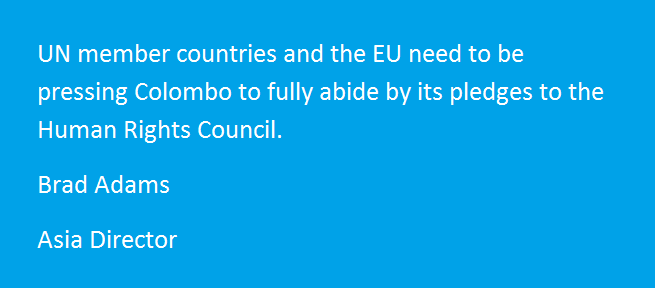 Recent interviews by Human Rights Watch found that torture remains endemic throughout Sri Lanka, including through the use of the PTA. Those arrested under the PTA, including since the war ended in 2009, gave accounts of torture and mistreatment, forced confessions, and denial of basic rights such as access to lawyers or family members.
As part of its undertakings for security sector reform at the Human Rights Council in October 2015, the Sri Lankan government pledged to repeal and replace the PTA. Several provisions under the proposed counterterrorism law are improvements, such as greater detainee access to counsel, entry of magistrates and Human Rights Commission officers to detention facilities, and reporting requirements that could help prevent enforced disappearances.
However, a number of provisions are likely to facilitate human rights abuses. Of particular concern are the bill's broad and vague definitions of terrorist acts, which include a wide array of illegal conduct. The suspect needs to have acted with a terrorist purpose, but this broadly includes "intimidat[ing] a population" and threatening "the unity, territorial integrity, sovereignty, national security or defence of Sri Lanka" – which could be found to include peaceful political activity or protest. While the draft law enumerates procedural safeguards, it is weak on demonstrating the manner in which they can be effectively implemented.
As with the PTA, under the proposed law police and military officers may make arrests without a warrant. Suspects may be detained without charge for 12 months, a reduction from the 18 months permitted under the PTA. Bail is only to be granted for exceptional reasons.
The bill also prohibits a range of conduct with "Proscribed Terrorist Organizations" that violate the right to freedom of association. If enacted, the law would prohibit ordinary dealings with many ethnic Tamil organizations, including those based abroad, that were declared illegal during the armed conflict and remain so, even if during or since the war they never engaged in any terrorist activity.
"The latest counterterrorism bill brings Sri Lanka no closer to having a law that will genuinely respect the rights of suspects," Adams said. "UN member countries and the EU need to be pressing Colombo to fully abide by its pledges to the Human Rights Council."