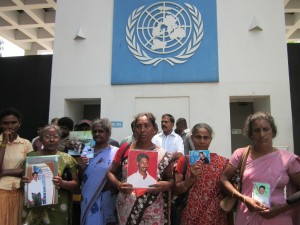 Dilrukshi Handunnetti
Marie Colvin, the well-known defence correspondent of the UK-based Sunday Times was crossing LTTE-controlled land to enter government territory in April 2001. Unexpectedly, Colvin ended up as a victim of Sri Lanka's protracted war, losing her left eye in a grenade attack.
Re-emphasizing the brutality of war and how it devours innocent civilian lives, Colvin was killed in Homs, a besieged Syrian city where even her temporary home was shelled.
There are reasons to reignite Colvin's memory today. It was she who broke the infamous White Flag case to an international audience, documenting the alleged atrocities committed during the final phase of the Sri Lankan war, firmly placing it before the international community, a serious human rights concern that went well beyond the confines of Sri Lankan territory.
In her compelling account, Colvin quoted Balasingham Nadesan and Seevaratnam Pulieedevan, two leaders of the Liberation Tigers who were killed in the final onslaught, together with thousands of Tamil civilians who were trapped in the No Fire Zone (NFZ), while seeking safe passage.
She also included in her account, the three conditions for surrender Nadesan put forward to the United Nations, through her: They included, a firm undertaking by the LTTE cadres to lay down arms, a UN guarantee of safe passage for the LTTE leaders to the US or the UK and a political process to ensure rights of the Tamil community are protected.
It was Colvin who passed on the message to Vijay Nambiar, the UN special envoy in Colombo at that time and Chief of Staff to Ban-Ki- Moon, the UN General Secretary. All appeared set for an official surrender and Nambiar claimed to have received an assurance from President Mahinda Rajapaksa that the two LTTE top men will not come to any harm, Colvin noted.
To ensure safety, "All they had to do was hoist a white flag high" she wrote, quoting Nambiar. The LTTE wanted Nambiar to be present at the time of surrender but Nambiar according to Colvin, felt it was not necessary as he had a presidential assurance on their safety. What happened is now history.
The perishing of civilians
But today's issue is neither Colvin's affiliations or sympathies nor what happened to Nadesan and Puleethevan in that final battle. Their killing did form the basis of a different discussion, during the United Nations Human Rights Council (UNHRC) sessions in Geneva. But now that Sri Lanka has finally acquiesced (after much rebellion and conferring the status of an LTTE upon her), the United Nations High Commissioner for Human Rights, Navanethem Pillay has finally reached Colombo on a fact-finding mission. Among the issues that will emerge will be the plight of the civilians, particularly those who surrendered.
Pillay will undertake a visit to Jaffna, Sri Lanka's northern capital, to meet representatives of the Tamil National Alliance (TNA) and it is likely that she would lend her ear to Ananthy Sasitharan, wife of a prominent LTTE leader Elilan, who is missing since his act of surrender on 16 May 2013. It will once again bring to the fore, an inconvenient truth the regime had overlooked – the plight of surrendees whose right to life had been guaranteed. This issue is now a matter before Court and Sasitharan is providing leadership to a group of women who are demanding their missing sons, husbands and brothers back. No matter what diplomatic initiatives the government may resort to and even facilitate Pillay's tour of Jaffna, some of these issues will make it to her next report on Sri Lanka, with added insight.
Her visit is both resisted and welcomed – by different quarters. But her timing is such that of her findings are quite negative; it would cause some reputation loss to the government. She has arrived at a time, incidentally, when there is much fodder for her, and through her, to the United Nations.
A key issue would be the Weliweriya incident, where there is incriminating evidence to show the Army had carried out a ruthless attack against civilians who were conducting a peaceful protest, demanding potable water. This has been a plea that had been ignored for years and finally, by seeking to control the protest as if it was a warring faction, three precious lives have been lost. This does not augur well for the government, whether there is a dedicated ministry for law and order or not. (The creation of a separate Law and Order Ministry, one of the key recommendations of the Lessons Learnt and Reconciliation Commission (LLRC) is altogether another interesting topic, to be pursued independently, given the incredible dynamics that still brings it under the President and therefore, remains centralized. Critics argue that it is not sufficient even as a pre-CHOGM exercise.)
As if Weliweriya was not enough to bring international attention to Sri Lanka's mismanagement of law and order, and certainly in keeping with the soldiers under check in the absence of war, there are added issues such as journalists having to endure house breaking incidents, though the telltale signs point towards something much more than a mere burglary. In a country, where journalists' lives have proved less important than dead crows, while that may appear normal for a war-conditioned Sri Lanka, to the rest of the world, it is not. Pillay is likely to be mindful of this renewed violence against media practitioners, who often highlight inconvenient truths.
Open letter to Pillay
In the meantime, various Tamil groups, mostly based in Europe, have written an open letter to the visiting High Commissioner, urging her to pay due attention to a number of issues affecting the Tamil people.
The letter, condemned by certain quarters as one put together by pro-LTTE elements, nevertheless highlights several key issues that are directly linked to the LLRC recommendations.
"With your visit to Sri Lanka from 25-31 August, we urge you, as global citizens concerned with the deteriorating situation in the island, to investigate militarization, settlements, and the systematic rape of Tamil prisoners of war. These three issues, the most immediate threats to peace and justice today, lay new seeds of dispossession, inequality and bitterness. Ultimately, an international investigation cannot delink the 2009 massacres from the ongoing suffering of the Tamil people in the here and now."
The letter has also heighted an issue that goes to the very root of the Tamil question – the construction of military bases in the North, where Tamils have been the majority for centuries.
"The Sri Lankan Army presence of 85,000-86,000 in the North and East is contrary to peace building and amounts to a Tamil civil society under occupation. According to ground reports, armed soldiers control every area of civilian life from schooling to public meetings; soldiers even place restrictions on humanitarian, developmental and psychiatric work for the war ravaged Tamil people. Through the occupation, the Sri Lankan Armed Forces seize land from Tamil civilians, while settlers from the South are brought into colonize the land.
"From the Jaffna Peninsula in the North to the Trincomalee Harbour and beyond in the East, the traditional homeland of the Tamil Nation is subjected to occupation and settlements. This situation exacerbates socio-economic deprivation, for Tamil people are denied the ability to cultivate their appropriated lands and must compete for fishing with the superior technology of Sinhalese settlers," it read.
As a government spokesperson commented yesterday, there is every likelihood for various interests groups to lobby for various causes, now that Pillay is here. The open letter among the various other advocacy efforts, according to him are just that. Attempts to draw her attention towards the Tamil cause. The problem here is, the authorities, basking in post-war triumphalism fail to recognize that there is still something called a Tamil question, which is political, social and cultural, and is yet to be addressed.
Pillay, who has pledged to not take sides (UN representatives are required not to and only to raise issues with large doses of diplomacy) has also said she would not lend credibility to the Rajapaksa administration. She has declared the purpose of her visit in a nuanced way. She is not in Sri Lanka to criticize – but to raise human rights concerns. And that's saying enough.
( The writer is a senior journalist who works for the Ceylon Today, a daily based in Colombo, where this peice was originally appeared ) –
courtesy Sri Lanka Gaurdian