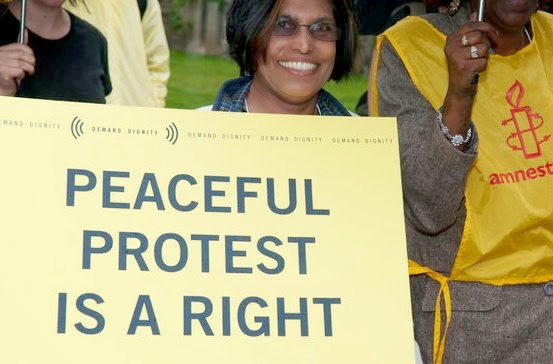 Overbroad Anti-Terror Law Targets 16 Tamil Diaspora Groups
The Sri Lankan government is using vague counterterrorism regulations to tie the major diaspora Tamil groups to the ruthless but defunct LTTE. This broad-brush sanction could then be used to punish local Tamil activists and politicians with international ties. – Brad Adams, Asia director
The Sri Lankan government's decision to label 16 overseas Tamil organizations as financers of terrorism is so broad that it appears aimed at restricting peaceful activism by the country's Tamil minority, Human Rights Watch said today. The government should provide evidence of the unlawful activity of specific groups and individuals or remove them from the list.
On April 4, 2014, External Affairs Minister G.L. Peiris made public an order signed on March 20, on the advice of the defense secretary, freezing the assets and financial resources of entities ranging from the Liberation Tigers of Tamil Eelam (LTTE), which was militarily defeated in 2009, to nonviolent Tamil organizations around the world.
Sri Lanka's United Nations Regulation No. 1 of 2012 empowers the government to designate individuals, groups or entities believed to "commit or attempt to commit or participate in or facilitate the commission of, terrorist acts" and freeze their financial assets and economic resources. The government's order provides no factual basis for its actions. Most of the groups listed in the order are lawfully registered entities in the various countries in which they are based. The asset freeze also covers 424 individuals.
The government should address its legitimate concerns about foreign terrorist financing primarily through legal cooperation with foreign governments. It should promptly produce the factual basis for listing, and ensure organizations and individuals are able to contest their designations before independent and impartial courts.
In 2009, UN High Commissioner for Human Rights Navi Pillay said that Resolution 1373, by serving as a vehicle for "numerous" countries to enact provisions that derogate from international human rights treaties, has had "a very serious negative impact on human rights."

In 2010, the then-UN special rapporteur on human rights and counterterrorism, Martin Scheinin, said in his final report to the UN General Assembly that the counterterrorism regime created by the Security Council "continues to pose risks to the protection of a number of international human rights standards."
"The government is putting all Tamil activists at risk by delegitimizing the major Tamil organizations abroad," Adams said. "Putting organizations engaged in peaceful political activity on a terrorist list is a modern version of McCarthyism."