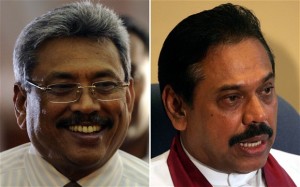 Left: Sri Lanka's defence secretary Gotabhaya Rajapaksa. Right: President Mahinda Rajapaksa.
Photo: GETTY IMAGES/REUTERS
The four Rajapaksa brothers rule Sri Lanka, with President Mahinda Rajapaksa at the top
Sri Lanka
is a country ruled by four brothers who have turned their country's government into a family business. At the apex sits President Mahinda Rajapaksa, who won office in 2005 and was re-elected in 2010 after victory in the civil war.
Almost as powerful is his younger brother, Gotabhaya, who serves as Secretary of Defence. He was a key architect of the campaign against the Liberation Tigers of Tamil Eelam (LTTE) that climaxed with the assault on Mullaitivu beach, claiming 40,000 lives in 2009.
Since then, the reconstruction of the north has been handled by the president's youngest brother, Basil, who is minister of economic development. His face appears alongside the president's on the billboards that hail every new road and school.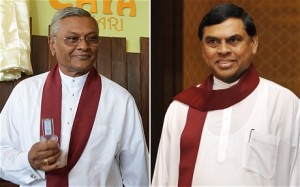 Left: Speaker of Parliament Chamal Rajapaksa. Right: Economic Development Minister Basil Rajapaksa. (GETTY IMAGES)
In theory, the "Democratic Socialist Republic of Sri Lanka" has a constitutional separation of powers between parliament and the executive. In reality, the eldest Rajapaksa brother, 70-year-old Chamal, serves as Speaker of Parliament.
Meanwhile, a son of the president, Namal Rajapaksa, 27, is an MP from the ruling party. If you include sundry cousins and relatives by marriage, then members of the Rajapaksa clan can be found in every important ministry and province. Yet the most effusive praise is reserved for the president. While other brothers appear on official posters, only Mahinda Rajapaksa, the supreme brother, does so alongside the emphatic slogan: "Live Forever!"