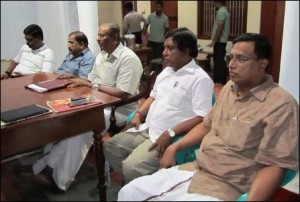 TNA press meet
18 June 2011/ Convening a press conference at the Martin Road office on Friday, to brief about the blatant attack on a Tamil National Alliance (TNA) meeting at A'laveddi by the Sri Lanka Army on Thursday, the TNA members said that it was a calculated demonstration by the occupying Army to tell the Tamils of the north and east of the island that they are under military rule.
Two of the commanders who led the attack could be identified, said TNA parliamentarian Mr. M.A. Sumanthiran. TNA would seek legal action and would hereafter go for house-to-house campaign, the parliamentarians said. The realities of the military rule by a genocidal Army prevent even the TNA holding public meetings in future, political observers in Jaffna said.
TNA parliamentarians addressing the press at their Jaffna secretariat on 17 June, 2011
According to the TNA, the meeting for its supporters on Thursday, inaugurating its campaign for the civic elections that are already scheduled, took place in a closed hall, and no permission need to be obtained from anyone for such a gathering. Yet, they informed the Thellippazhai police in advance, about the meeting in the hall and the use of speakers in the hall.
When the meeting started a group of 50 SL soldiers, led by one commander, came to the stage and said that the SL Defence Ministry had not permitted the meeting. While the TNA parliamentarians were arguing that according to regulations there was no need for getting any permission for such closed-door gatherings, a group of around 40 SL soldiers led by another commander entered the scene armed with batons and iron rods, besides their guns and started attacking the participants, The TNA said in the press conference.
The Thellippazhai police first refused to register their complaint, the TNA said.
When they contacted the SL commander for Jaffna, Mahinda Hathurusinghe, sent his deputy commander to Thellippazhai with appeasing words that a patrolling group of soldiers mistook the meeting as an unauthorized one.
The deputy commander requested them not to file a police complaint, but after their insistence a complaint was registered, the TNA said.
Whether routinely patrolling SL soldiers carry batons and iron rods with them, asked Mr. Sumanthiran.
After the attack and dispersal of the gathering, the TNA parliamentarians and other participants faced much difficulty even in retrieving their vehicles parked at the venue.
The incident has evoked much anger in the peninsula.
TN