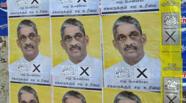 Former Army Commander and defeated presidential candidate Gen. Sarath Fonseka was released from prison yesterday evening amidst cheers from a large number of his supporters who thronged the streets near the Welikada Prison waving flags and shouting slogans.

Gen. Fonseka, making a brief speech, thanked all those who had fought for his release. Indicating his desire to re-enter active politics, he vowed to work for the people even at the risk of being
'hanged' by the government. He said he would never forget the masses and their sacrifices during his imprisonment for two and a half years. He said he would fight for their rights and salute those who had stood by him.
Meanwhile, The Island learns that though the government released General Sarath Fonseka, it has not restored his rights to vote or contest future elections, despite claims to the contrary attributed to the Attorney General.
Well informed sources told The Island last night that President Mahinda Rajapaksa had only remitted Gen. Fonseka's sentence.
Responding to a query, sources close to Gen. Fonseka said that the question of the General re-entering parliament through the National List would not arise at the moment. Of course, they would continue their struggle, they said, adding that in spite of the restrictions placed on Gen. Fonseka, he would engage in active politics. There wouldn't be any restrictions on the General's political activity, they said.
Gen. Fonseka's release fuelled speculation that he would seek a parliamentary seat via the National List. His party, the Democratic National Alliance (DNA) secured seven seats including two National List slots at the last parliamentary polls in April 2010. The DNA and JVP shared the two National List slots, with Tiran Alles and Anura Kumara Dissanayake being appointed MPs.
Gen. Fonseka's release followed one-on-one talks between MP Alles and President Rajapaksa over the past several months. Mrs. Anoma Fonseka also had a meeting with the President last week at Alles' residence.
UNP sources last night told The Island that the General's release would be meaningless unless he was given back his right to exercise universal franchise and contest elections.
IS