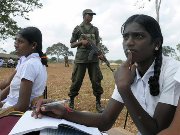 Military in Kilinochchi
It is reported that youths in various areas in Killinochchi are being forcedly taken away by personnel of the Terrorist Investigation Division (TID) to be questioned. While being questioned many youths are assaulted and scolded using abusive language say these reports.

It is stated that youths in Akkarayan, Anai Vilundan, Skandapuram and Vishvamadu areas in Killinochchi are taken away stating they are suspicious characters and are being thoroughly scrutinized.
It is reported that the youths are asked whether they had been with the LTTE organization, if so what was their division and how long they had been with the organization and after a thorough interrogation they are photographed, personal information is recorded and finger prints taken before they are released say reports.
LT