"Kumar's" scars are real and are only just beginning to heal – the result, he maintains, of four gruesome days of torture in a dark room, somewhere outside Colombo, barely two weeks ago.
"I thought I was going to die," he says, before his captors allowed him to dress, then blindfolded him, and dumped him beside a road.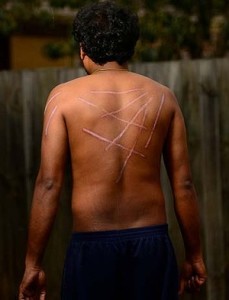 Tamil aslyum seeker 'Kumar' shows his wounds. Photo: Jason South
To the Tamil Refugee Council in Australia, the scars are proof that those suspected of supporting the defeated Tamil Tigers are still being persecuted in their homeland.
To the Sri Lankan government, they are a "fabrication" designed to undermine confidence in a reconciled nation and give succour to those "defeated terrorists" still seeking a separate Tamil state.
What seems beyond question is that Kumar, not his real name, was un-scarred when he left Melbourne in March to return to Sri Lanka to run the restaurant of a hospitalised uncle – and very badly scarred when he returned on April 11.
Kumar admits he accepted money to carry some parcels for the Tamil Tigers while working as a bus driver in Sri Lanka in 2006. He says he left the country two years later and entered Australia on a student visa before completing a course in cooking and being granted a 457 visa in January last year.
Twice, he says, he returned to Sri Lanka to visit family before his wife and three children were able to join him. Each time, he says, he kept a low profile, staying in the family home, and had no trouble.
This time, he suspects he was spotted by Sri Lankan intelligence officers while working front-of-house in his uncle's restaurant.
He was riding home from the restaurant on a motor bike with his brother when they were intercepted. Kumar says he was bound, blindfolded and driven to a room and tortured for four days.
Early on, he says he saw a stove in a blood-spattered room, discarded women's underwear and an iron bar in a bucket. The ordeal reached its climax on the fourth day, when he says his back was beaten with the scalding bar.
"They wanted me to admit that I'm a LTTE [Tamil Tiger] and I said, 'No. How can I admit? I just delivered some parcels for some money'," Kumar told Fairfax.
"On the last day I begged them not to kill me, [saying] 'I've got family, I've got kids'. They showed me a blank sheet of paper and wanted me to sign." He claims that 30 minutes after signing the paper, he was released by a roadside.
Now he is seeking asylum, saying he fears that his back injuries will prevent him returning to work at a suburban Indian restaurant – and leave him liable to deportation.
Sri Lankan high commissioner Thisara Samarasinghe said the story is "exactly a fabrication for vested interest … if he has reasonable and admissible evidence, bring it up to the authorities and be assured [they] will treat it with absolute seriousness".
Greens leader Christine Milne called on the federal government and Coalition to stand up to Sri Lanka "end the cosiness of the relationship" with the country.
"Justice and decency demand Australia stands up to what has become a democratically elected dictatorship engaged in abuse of its people, particularly the Tamils," she said in a statement on Thursday.
Senator Milne said there was increasing evidence of torture, persecution and human rights abuses in Sri Lanka.
"It is clear that instead of recognising that Tamils are leaving Sri Lanka to seek asylum because of ongoing persecution and white van disappearances, the Gillard government and Tony Abbott prefer to demonise the victims and not condemn the perpetrators."