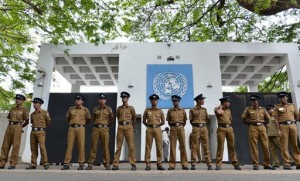 Sri Lankan police officials stand guard outside the United Nations office in Colombo on August 26, 2013
Sri Lankan police officials stand guard outside the United Nations office in Colombo on August 26, 2013. A Catholic-run human rights group working in northeastern Sri Lanka said Monday it had been …
(AFP) Catholic-run human rights group working in northeastern Sri Lanka said Monday it had been harassed by security personnel after meeting Pillay last week.
Pillay ended her first official visit to the formerly war-ravaged country at the weekend with a stinging press conference in which she accused the government of becoming "increasingly authoritarian".
Veerasan Yogeswaran, a 60-year-old Jesuit priest who runs the Centre for Promotion and Protection of Human Rights, said five or six plainclothes policemen visited him at midnight and before dawn, just hours after the meeting with Pillay.
"The concern is that they are going to homes at midnight and questioning people," the priest told AFP from his home in Trincomalee, 260 kilometres (160 miles) northeast of the capital Colombo.
"This should not happen four years after the war has ended. People feel harassed and intimidated.
"Just imagine the plight of the ordinary people when they are visited at midnight by the security forces."
Pillay denounced the intimidation of people she had spoken to during her week-long fact-finding mission to probe alleged war crimes in Sri Lanka, which is under international pressure over its rights record.
"This type of surveillance and harassment appears to be getting worse in Sri Lanka, which is a country where critical voices are quite often attacked or even permanently silenced," she said on Saturday.
The Centre for Promotion and Protection of Human Rights in eastern Sri Lanka helps families of people who went missing during and after Sri Lanka's decades-long Tamil separatist war as well as people in detention.
Rights activist Paikiasothy Saravanamuttu, who heads the Colombo-based Centre for Policy Alternatives (CPA), said he travelled to the war-affected districts of Mullaittivu and Jaffna and spoke to local people who also said they were questioned after meeting Pillay.
"I have had reports confirming that civilians who spoke with her… had been visited and questioned by people they suspected to be military intelligence or army," Saravanamuttu told AFP.
The CPA chief who is a member of the ethnic Tamil minority is routinely denounced on state television as a traitor and Tamil Tiger supporter.
Sri Lanka's government has criticised Pillay, saying that she transgressed her mandate. It denied anyone who spoke with her had been harassed.
Information Minister Keheliya Rambukwella said the government was prepared to probe her allegations of intimidation if she could provide evidence.
"Those who make these allegations are only trying to discredit the country," Rambukwella told reporters. "If there is a complaint from them to the law enforcement authorities, we are ready to have a complete investigation."
There was no immediate comment from the UN in Colombo or Pillay's office in Geneva to government demands for evidence of intimidation.
Sri Lanka's battle with separatists from the minority ethnic Tamil group ended in 2009 with a no-holds-barred military offensive which crushed the Tamil Tiger rebel group.
The military campaign sparked allegations that troops killed up to 40,000 civilians and committed other war crimes such as executing surrendering Tamil rebels and shelling civilian centres which had been declared no-fire zones.
In March, the UN passed a second resolution in as many years pressing Sri Lanka to investigate alleged war crimes more thoroughly.
– AFP