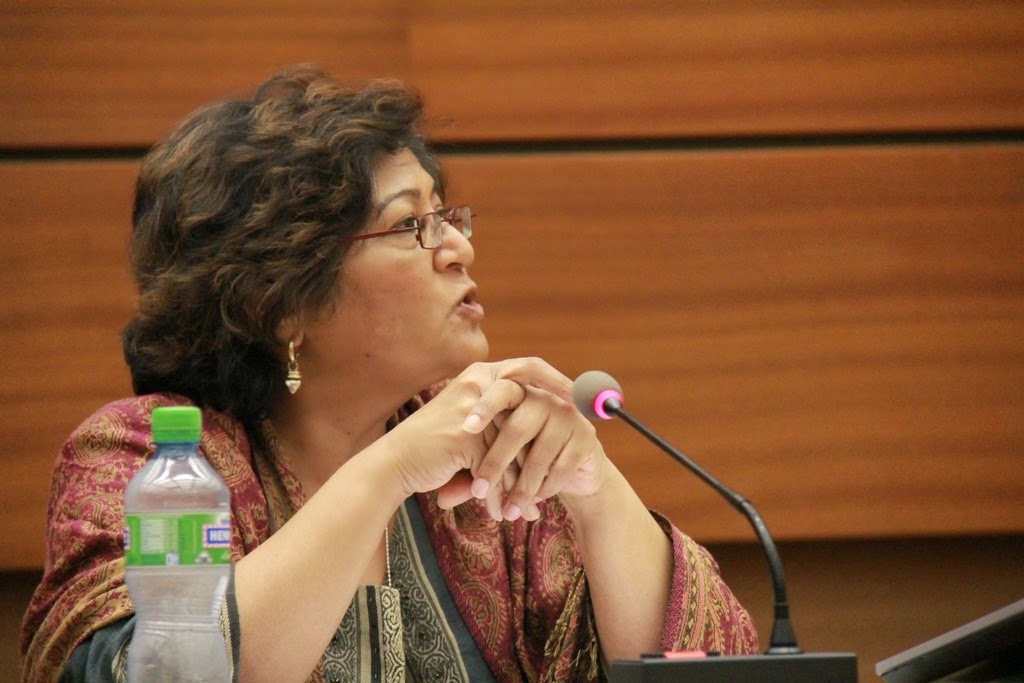 Yaumin Sooka , Author of the report at HRC25
presenting the report (©sunanda deshapriya)
Executive Summary
This report paints a chilling picture of the continuation of the war in Sri Lanka against ethnic Tamils, five years after the guns went silent. The findings are: • Abduction, arbitrary detention, torture, rape and sexual violence have increased in the post-war period. Targeted for these violations are LTTE suspects, or those perceived as having been connected to, or supporters of, the LTTE. The purported aim is to extract confessions and/or information about the LTTE and to punish them for any involvement with the organisation.
• These widespread and systematic violations by the Sri Lankan security forces occur in a manner that indicates a coordinated, systematic plan approved by the highest levels of government. Members of the Sri Lankan security forces are secure in the knowledge that no action will be taken against them.
• This report establises a prima facie case of post-war crimes against humanity by the Sri Lankan security forces, with respect to (a) torture and (b) rape and sexual violence. The report is based on:
• 40 sworn statements from witnesses – half men and half women – who testified to their experiences of abduction, torture, rape and sexual violence by the Sri Lankan security forces.
• The abductions and torture described all occurred within the time frame of May 2009 to February 2014, i.e. post-war.
• More than half of the abductions recorded in this report took place during 2013 and 2014.
• Almost all the incidents in this report occurred from 2011 onwards.
7
• The witness testimony is supported by detailed medical and psychiatric records in 32 of the 40 cases, but given some have only very recently arrived in the UK this was not always available. • The evidence of two internationally recognised experts on torture with experience in examining hundreds of Sri Lankan asylum claimants.
• In addition to the 40 statements, 57 medico-legal reports pertaining to different cases were made available by immigration lawyers (40 male and 17 female clients). All dealt with torture in the period 2006-12. Of these 28 also alleged they were raped or subjected to sexual violence by the Sri Lankan security forces.
The cases of torture, rape and sexual violence covered in this report constitute a small sample of those crimes likely to have been committed against the Tamil population in Sri Lanka. These are witnesses whose families were able to locate them, pay a bribe for their release and send them abroad to the UK. Since there is no centralised system to locate asylum seekers in the UK, there likely are more recent survivors we have not found. Investigators were acutely aware of the risks to witnesses and their families should they be identified and have made every effort to ensure that identities be kept secret so as to prevent retaliation against extended family members still in Sri Lanka. Several witnesses were living abroad and had no idea they would be at risk if they returned home. The overwhelming majority of the witnesses were "white vanned", a term now used in Sri Lanka to denote abduction by the security forces.
A quarter of the witnesses reported being abducted and tortured on more than one occasion. Witnesses were released from detention only after their family paid bribes to members of the security force, often through intermediaries from pro-government paramilitary groups. Those who exited the country through Colombo airport also paid bribes to avoid being stopped and questioned. The testimony demonstrated the rapes were often extremely violent, leaving the victim bleeding heavily, and often accompanied by racist insults.
One woman was subjected to forced vaginal, anal and instrumental penetration (with a baton), and on one occasion forced to have oral sex simultaneously while being raped. She endured seven gang rape sessions interspersed with severe beatings. All witnesses revealed deep shame and guilt about the sexual abuse; nearly half had attempted to commit suicide after reaching the UK. This report has immediate implications for asylum policy, donor funding and the international community as a whole.
Action must be taken to bring the perpetrators to justice using the International Criminal Court and/or, an international tribunal as well as instigating national prosecutions under universal jurisdiction. Every witness who spoke to our investigators said they were recounting their ordeal in the hope that these crimes would stop and nobody else would have to suffer as they did.
end
Foreword from Archbishop Emeritus Desmond Tutu:
The evidence presented in this report gives the lie to the Sri Lankan
government's propaganda that it is reconciling with its former
enemies. It shows how anyone remotely connected with the losing
side in the civil war is being hunted down, tortured and raped,
five years after the guns fell silent. Shockingly, more than half
of the abductions in the report took place as recently as 2013-
2014. The testimony collected here comes from 40 witnesses,
almost all of whose families could afford to pay a bribe for their
release; one wonders what happened to those whose relatives
could not afford to pay and to those without relatives. The sheer
viciousness and brutality of the sexual violence is staggering; as
is the racist verbal abuse by the torturers and rapists in the Sri
Lankan security forces. Thirty-five of these witnesses were forced
to sign confessions in Sinhala; a language they do not understand.
In some cases people were forced to turn informer as well as to
betray innocent bystanders in order to survive and left to bear the
subsequent terrible burden of guilt.
I find it horrifying that almost half the witnesses interviewed for
this report attempted to kill themselves after reaching safety
outside Sri Lanka. This indicates the Sri Lankan government has
achieved its aim in destroying these souls, who are unlikely to
regain happiness and peace in their lives. My deepest hope is that
the cycle of revenge will be broken. In order for this to happen, the
international community must intervene. It is imperative to pierce
the skein of impunity that surrounds Sri Lanka – an island where
the war is clearly not yet over.
Full report is here