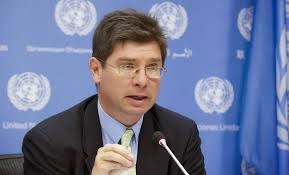 François Crépeau
The United Nations Special Rapporteur on the Human Rights of Migrants has called for sweeping reforms in Sri Lanka to protect the rights and safety of the island's migrant worker population, including the introduction of a legal framework on par with international instruments, ratification of specific ILO Conventions and the decriminalization of irregular migration.
Following his week-long visit to Sri Lanka in May, François Crépeau, the Special Rapporteur, has made a range of recommendations in his mission report, highlighting serious anomalies affecting the rights and welfare of the migrant population.

Crepeau has recommended that Government programmes should not encourage migrants to go to countries where the legal and institutional framework necessary to guarantee… …the protection of their rights is not in place.

Highlighting a special concern, he has urged the island to conduct independent autopsies of all Sri Lankan workers who die abroad and to allow family members access to autopsy results.
Crepeau has also called for the inclusion of enhanced efforts to prevent exploitation and abuse of migrants, during the recruitment stage, while in service in the destination country and upon their return to Sri Lanka.

The recommendations include full implementation of the Code of Ethical Conduct for private employment agencies and the island's National Labour Migration Policy.

With regard to recruitment agencies, the Special Rapporteur has called for a comprehensive policy that would improve services, enable agencies to be held accountable for the non-execution of their duties and regulate irregular sub-agents.

Referring to the issue of weak contracts that render workers vulnerable, the Special Rapporteur has urged Sri Lanka to negotiate with all destination States to reach binding bilateral agreements. Further, the adoption of a uniform model contract, which would reflect international human rights and labour standards, too has been recommended.
Making further recommendations, it had been proposed to urgently strengthen welfare services and consular assistance provided to Sri Lankan migrants in destination States, also calling for programmes to facilitate reintegration of migrants, including psycho-social services and livelihood opportunities.

Referring to the rights of women migrants, the Rapporteur has called for the repeal the Ministry of Foreign Employment Promotion and Welfare circular from January 2014 and to respect women's freedom of movement.
It has also been recommended that irregular migration be decriminalized and the detention of migrants in an irregular situation to be considered only as a last resort.
Sri Lanka has a migrant worker population exceeding 1.8 million.
By Dilrukshi Handunnetti
Ceylon Today