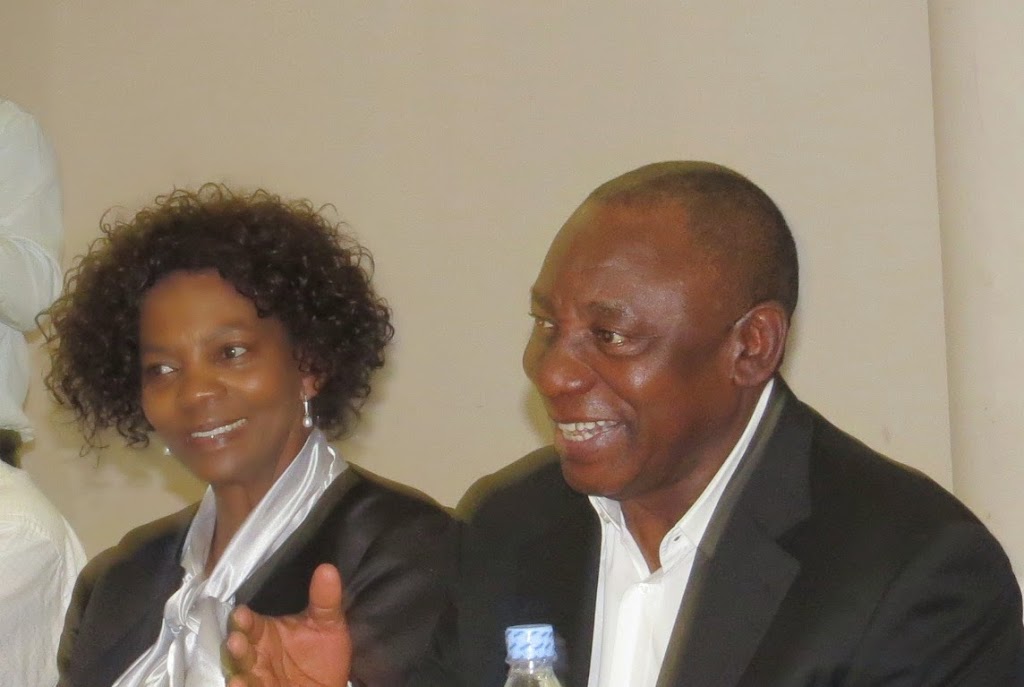 Ramphosa in Jaffna
Wigneswaran briefs Tamil journalists on meeting South African Envoy Ramaphosa
A South African delegation, comprising South Africa's Special Envoy to Sri Lanka and South Sudan, Deputy President Cyril Ramaphosa and Nomaindia Mfeketo, the deputy minister of South African International Relations and Cooperation, visited Jaffna on Tuesday and spent one hour with Northern Provincial Council (NPC) Chief Minister CV Wigneswaran. Addressing the press following his meeting with the South African delegation, Mr Wigneswaran said Mr Ramaphosa assured him that the 'South African involvement' would not be contradictory to the 'political initiatives' by New Delhi and to the Geneva-based war-crime process supported by the Western countries.
The meeting with Mr Wigneswaran comes after the visiting envoy had met Mr Sampanthan in Colombo.
"At first, we were wondering on the motive of their visit," Mr. Wigneswaran told the press.
Wigneswaran has been given the task of 'briefing' the public on the South African delegation's engagement with TNA by its Parliamentary Group leader Mr Sampanthan and the nominated parliamentarian MA Sumanthiran, informed TNA sources told TamilNet Tuesday.
After the Commonwealth Summit last year, Colombo had requested South Africa to assist with a truth and reconciliation process, Mr Wigneswaran was told by the visiting South African delegation.
"We asked the visiting South African delegation whether their engagement would not be contradictory to what India is trying to achieve and the war-crimes investigation process, which the Western countries have been favorable to. And the response was that South African process would be complementary to these processes," Mr Wigneswaran told reporters.
Cyril Ramaphosa was appointed Special Envoy to Sri Lanka and South Sudan by South African President Jacob Zuma in February.
"We are going to listen to the Sri Lankans. We have already met them a few times in South Africa, but this time around we are going to go to Colombo and meet the government, the President of Sri Lanka and a number of other government ministers," South African media quoted him as saying before his visit.
"We will discuss with people in the community. We will also try to help the Sri Lankans with the Truth and Reconciliation process, their own constitutional reform and make sure Sri Lanka does indeed become a stable country where they will enjoy human rights," he went further on record.
"Only time will tell whether Ramaphosa would get a lesson on the impossible nature of resolving the chronic national question of Eezham Tamils within the Sri Lankan unitary constitution or whether he would end up like Norway's failed peace-broker Erik Solheim, who is now confined to social media and authoring literature defending his failures in the past," a senior journalist in Jaffna commented after listening to Mr Wigneswaran.
"However, if this is brokering on behalf of the Unitary State of Sri Lanka, the process wouldn't last that long," he added.