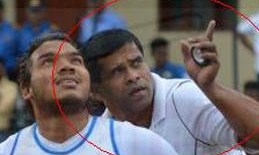 Namal R with a thug
Because the Navy rugby team of which Yoshitha Rajapakse , the son of the President is a player lost the match to Kandy sports society rugby team played at Ninthawala playground on the 12th evening , the spectators were fiercely assaulted, as Yoshitha's team could not accept the defeat honorably.
In fact , the navy police and soldiers of the Navy were dispatched from Colombo to witness the match in order to create pandemonium and attack the players of the Kandy sports team . The Kandy sports society team won by 25 to 20 .

After the victory , the spectators began cheering and applauding the Kandy sports team . The official licensed hooligans of Yoshitha and Namal who could not bear this , had begun intruding into the areas and brutally attacked the spectators who were celebrating the victory of the Kandy sports society team. Consequently three navy soldiers had sustained injuries, reports say.
As usual the police were idle spectators to all this violence inflicted by Yoshitha's violent prone group.
Earlier on , Yoshitha had described the Kandy rugby players as traitors. Players of Fiji Islands were got down to play for the Navy team after spending colossal amounts of money by the Navy. One such player was, Stefano Kogguniwalu .
Despite such waste of funds and fuss , the Navy team lost in the game played on the 12th.
The son who is also infected by the Medamulana ' Maharaja' megalomania is also characterized by the evil inability to accept defeat in a contest . It is very unfortunate that the Medamulana chief , his brothers and his sons do not know that it is more honorable to lose in a contest than to cheat and win. ( How the Chief wins elections) . It is best in the their own interests and the country if they take a lesson from the participants in the Commonwealth games now in progress in UK telecast by our TV channels, where the sportsmen accept defeat in the same cheerful vein as in victory.
It is well to recall a rugby player died under mysterious circumstances , since this game took a change for the worse after the advent of players who cannot accept defeat honorably .
LEN