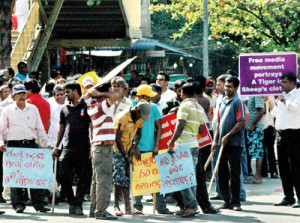 Pro government supporters, some armed with poles, having displaced the media activists from their 'Black January' protest, demonstrating in front of the Fort Railway Station. Pic by Saman Kariyawasam
"There was a different response last Wednesday when media organisations representing workers and journalists wanted to hold a peaceful protest on the promenade outside the Fort Railway Station. Police, as has become the practice now, failed in their attempt to obtain a stay order and were directed by a Magistrate to ensure traffic is not disrupted on the road outside. He allowed the protest. However, an estimated 1,500 strong pro-government group, some armed with clubs, crowded the promenade."

Mass Media and Information Minister Keheliya Rambukwella had some words of advice to spokespersons and media coordinators in the State sector including those in ministries when he met them this week. When certain allegations are levelled against the government, he opined, "relevant facts and clear evidence" were freely available to prove those allegations were wrong and fabricated. He lamented that the relevant institutions did not act promptly and communicate "the truth" to the media on time. Though he has been accused of 'washing linen of the government,' he declared that he was doing that according to his conscience. Those were, of course, instances where news reports were either printed in the media or aired on television and the radio.
There was a different response last Wednesday when media organisations representing workers and journalists wanted to hold a peaceful protest on the promenade outside the Fort Railway Station. Police, as has become the practice now, failed in their attempt to obtain a stay order and were directed by a Magistrate to ensure traffic is not disrupted on the road outside. He allowed the protest. However, an estimated 1,500 strong pro-government group, some armed with clubs, crowded the promenade. Fear of a confrontation made the media groups to move to Lipton Circus where the protest was concluded peacefully. Yet, they were watched by hundreds of armed police officers clutching rifles and tear gas guns, hiding behind a church.
Titled "Black January," so named since most journalists were attacked during that month over the years, the event received greater worldwide publicity in the light of the venue being occupied by pro-government supporters. It was also closely monitored by western diplomatic missions in Colombo. Besides those in the official media, they included local councillors and trade unionists. The media organisations also won some backhanded compliments when they were accused by sections of the state media of trying to destabilise the government.
"We have no hidden agenda. We are only fighting for media freedom in the country," declared Gnanasiri Kottigoda, the Convenor of the Free Media Movement (FMM). He said it has become customary for those in the government to accuse anyone who voiced a differing, discomforting opinion or protested peacefully to be branded as an LTTE sympathiser, the lackey of a foreign organisation or a terrorist. He asked how a group of some 600, mostly journalists, who took part in the protest could destabilise a powerful government with a two thirds majority.
The move comes at a time when the Paris-based Reporters Without Borders said the press freedom index for Sri Lanka for last year had fallen to 163 out of 179 countries. In the 164th position is Somalia, widely regarded as a failed state. In 2010, Sri Lanka stood at 158. However, sections of the UPFA may take consolation in the fact that United States suffered a drop by 27. This was after journalists were arrested during Occupy Wall Street protests.
The US was ranked at 47 last year as against 20 in 2010. Britain also suffered a drop of nine ranking — 28 as against 19 in 2010. The rankings are based on a country's score in a 44-question survey covering areas including violence against journalists, censorship laws and freedom of the internet. As has been the case in each of the surveys put together over the past decade, Scandinavian countries dominate the top of the table, with Finland and Norway taking joint top spot this year. Meanwhile, Eritrea, North Korea and Turkmenistan make up the bottom three for the seventh year in a row. Niger climbed 75 places to 29th after a "successful political transition".
from ST political column