by Rasika Jayakody.
The President's security still remains a hot topic among political sources due to certain developments last week. It was revealed that the IGP and the senior DIG who is in charge of the President's Security Division had not taken adequate measures to ensure security for the Head of State. Both the IGP and the head of the President's Security Division were appointed by the former President while he was in office. They were not replaced by President Sirisena when he was elected to power and that decision raised many an eyebrow.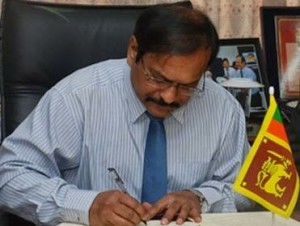 In addition to that, some senior officials who worked very closely with the former President and his family members were handpicked for key position. One such official was B.M.U.D. Basnayake who was appointed as the Secretary of Defence replacing Gotabaya Rajapaksa. His conduct came under serious question when the Defence Secretary made media statement over the accounts held by Gotabaya Rajapaksa and the Avant Garde investigations. Two months ago, during a session of the National Executive Council, it was revealed that the new Defence Secretary maintained close connections with his predecessor Gotabaya Rajapaksa. In spite of such revelations, he continues to function as the Defence Secretary of the country, posing a serious threat to the country's new administration.
It was revealed last week that a remark former President Chandrika Bandaranaike Kumaratunga made with regard to the investigation into Avant Garde private security firm was leaked to the former Defence Secretary within 30 minutes. The remark was made by the former President during a telephone conversation with the Basnayake and Gotabaya Rajapaksa, apparently, was privy to this discussion! It is quite evident that secret channels of information are still being maintained at the Ministry of Defence and the new government has miserably failed on the intelligence front.
The country still does not have an overall intelligence chief to deal with such delicate matters. Although a few names have already been proposed in this regard, no final decision has been made. The absence of an overall intelligence chief poses a grave threat to the lives of leaders of the present government, including President Maithripala Sirisena, Prime Minister Ranil Wickremesinghe and former President Chandrika Bandaranaike Kumaratunga. Those who worked very closely with the top echelons of former government are still holding key officers and no action has been taken against them.
CDN