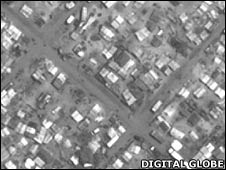 President shown photos of shelling civilians
'The Foreign Minister insisted that satellite images did not provide information needed to determine the source of fire,' says the US embassy cable
US diplomats in Sri Lanka have shown satellite images of damage by shelling in "safe zone" even after the government announced ending heavy artillery and aerial bombing, according to anti-secrecy website WikiLeaks.
Charge d'Affaires of the US embassy James R. Moore, has said that he showed the images to President Mahinda Rajapaksa and Foreign Secretary Palitha Kohona two weeks before the government declared its military victory over Tamil Tigers.
Sending a cable to the secretary of state, with a copy to the White House, Mr Moore says he took the opportunity to meet the president and Mr Kohona following a meeting Mr Rajapaksa had with donor co-chair ambassadors on 5 May 2009.
"The President maintained that Government forces have not been shelling into the "safe zone" since his April 27 statement announcing the end of heavy artillery and aerial bombing in this area," the cable said.

President denies shelling
"The President further asserted there was no hospital in the area where the LTTE has claimed a hospital was shelled on May 2."

Foreign Secretary Kohona has also rejected the notion that security forces continue shelling civilians in the no fire zone declared by the president, as "such sporadic shelling would not serve any military objective."
Mr Moore has had a meeting with Foreign Minister Rohitha Bogollagama the previous day in which he has shown the minister two satellite images apparently taken on April 26 and 28 of the civilian "no-fire zone" showing probable artillery impact craters.
He has provided other satellite images and inquired about reports of Government shelling in the safe zone according to the cable.
India and US 'watching'
The US official has also raised the issue of United Nations unofficial estimates that thousands of civilians were killed in the conflict since January, 2009 with the minister.
"Bogollagama replied (implying the LTTE had shelled its own positions) that the satellite images did not provide enough information to indicate the source of fire."
Mr Moore in his assessment has expressed hope that the president may not be fully updated by the field commanders on the real situation in the ground but may be forced to a "possible change of the Sri Lankan Army's conduct" after the meeting.
"The President remarked at lunch before this meeting that India had satellites and was monitoring the ground situation in Sri Lanka. It will now be equally clear to the Sri Lankan government that we are watching, too," the cable said