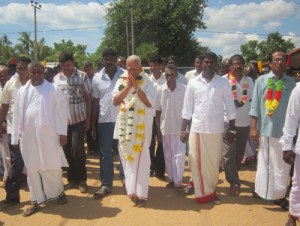 TNA campaiging in East
The Tamil National Alliance (TNA) was getting 7 seats and was leading in the counting of votes for the Batticaloa district, taking place at Vincent Girls College. Then, there was a 30 minutes 'power cut' and when the lights came back, it was announced that the TNA got only 6 seats. The 'lost' one went to the UPFA. As it stands now TNA has secured 11 seats, trailing behind the ruling UPFA that has won 12 seats in the province. The Sri Lanka Muslim Congress (SLMC) has secured 7 seats, while the UNP got 4 seats and Wimal Weerawansa's National Freedom Front (NFF) got one. The counting for Batticaloa district that usually takes place at the Hindu College was shifted this time to Vincent's College close to a paramilitary camp.

Unconfirmed reports said UPFA aligned Sivanesathurai Chandrakanthan alias Pillayan and Seyed Ali Zahir Moulana have polled much less personal votes and struggle to get their seats.
Total number of votes polled by the main parties:
UPFA: 200,044
TNA: 193,827
SLMC: 132,917
UNP: 74,901
District-wise results follow:
In Trincomalee District, TNA has secured 44,396 votes (29.08%, 3 seats), United People's Freedom Alliance (UPFA) 43,324 votes (28.38%, 3 seats), Sri Lanka Muslim Congress (SLMC) 26,176 (17.15%, 2 seats), United National Party (UNP) 24,439 votes (16.01%, 1 seat) and National Freedom Front (NFF) 9,522 votes (6.24%, 1 seat).
In Batticaloa District, the TNA has polled 104,682 votes (50.83%, 6 seats), the UPFA has got 64,190 votes (31.17%, 4 seats) and the SLMC has received 23,083 votes (11.21%, 1 seat).
In Ampaa'rai District, the UPFA has polled 92,530 votes (33.66%, 5 seats), the SLMC hat got 83,658 votes (30.43%, 4 seats), the UNP has received 48,028 votes (17.47%, 3 seats) and the TNA has secured 44,749 votes (16.28%, 2 seats).
TN