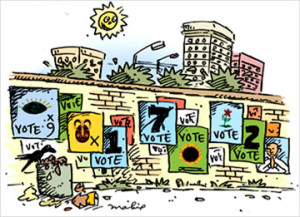 Election law violations are rampant
Former Chief Elections Commissioner of India, N. Gopalaswami, who headed the Mission of International Election Observers in the recently held provincial elections said, Sri Lanka's Election Commissioner is 'powerless'.
The report issued by the international monitors stated the negative perception about the election could have been largely controlled or eliminated, had the Commissioner of Election been vested with overarching powers on every aspect of the election.
Gopalaswamy said in his report, unlike the Elections Commissioner of India, who has the power to take decisions on all poll related activities, Sri Lanka's Department of Elections functions just as a Department conducting elections, while all the power is vested with the government, which prevents the Commissioner from taking sufficient actions against election law violators. The monitors were also of the view the powers of the Commissioner of Elections should be appropriately enhanced towards the objective of holding an election, which is not only free and fair, but is also perceived to be so.
The group was impressed by the substantial turnout of the voters and the Election Commissioner's spontaneous and instant decision to provide transport at the Commission's expense to the Internally Displaced Persons (IDPs), when the monitors brought the matter to his notice during their visit to Jaffna, about the long distances the IDPs were required to travel at a considerable expense, to cast their votes.
Gopalaswamy also said the conduct of a certain television channel was one of the glaring incidents of misuse of freedom of the press and media for partisan purposes. The Group he said was is not aware of any action taken for stopping the telecast of misleading information by the TV channel on the day of the poll.
The more blatant was the reported use of the trainee nurses, pupil teachers, teachers, newly recruited graduates, Samurdhi workers, civil defence services workers in campaigning, during and outside office hours.
Gopalaswamy also noted the ballot paper was also somewhat complicated, which could have led to a somewhat large percentage of rejected votes. He said they also noted that the voting compartments at many places were not placed in the best possible way so as to give maximum confidence about the secrecy of their votes to the voters.
The group also said the presence of armed police inside polling stations and near voting compartments should have been avoided.
The police were either not responsive or showed slow response in general to instances of violations of election law in the field, before and during the poll day.
The group also suggested for the future of stronger IT based poll monitoring measures and a SMS based poll monitoring system.

By Sulochana Ramiah Mohan
CT